Madame Destiny Megaways
Madame Destiny Facts

$1,000 Bonus

+ 150 Free Spins

Play at Bizzo Casino
Reels:
6
Rows:
7
Paylines:
201,704
Min. Bet:
$0.20
Max. Bet:
$100
Max. Win:
5,000x
RTP:
96.56%
Free Spins:
Bonus Buy:
Megaways:
Free Play:
More
Less
The Madame Destiny Megaways slot was one of the first new slots from Pragmatic Play in 2021. Players who have been around will recognise this is an update to the popular Madame Destiny slot that was released in 2018. The key update obviously is the Big Time Gaming Megaways mechanic, turning Madame Destiny into a massive 200,704 ways to win game. Players also rave about the multiplier wild.
Visually, the game has kept its aesthetics. It admittedly looks a bit dated in today's age of slick and minimal computer graphics, but it has its own charm with its colourful, hand drawn illustrations. Fortune tellers and their various charms don't exactly draw their powers from modernity, and you'll find yourself cradled in the mysterious warmth of the Madame's caravan as you play.
Other highlights include the addition of a tumble feature, and a better paying free spins bonus round. In fact, the free spins round can be loaded with multipliers to deliver really awesome wins.
There is also the option to bonus buy or ante bet if you want to get into the bonus round a bit quicker. We will give you a full report on all of this in this detailed Madame Destiny Megaways slot review.
The Best Casinos to Play Madame Destiny Megaways in 2022
Slots are a game of luck, but you do have some control over your fate by choosing the best casinos to play Madame Destiny Megaways. It's not good enough that a site simply offers the game. You want to make sure that they are also reputable. And since we're talking about real money gambling, the banking must be smooth.
Below is a list of some of the top casinos offering this Pragmatic Play slot and they are, in our opinion, some of the best places to play.
Play Madame Destiny Megaways for Free
There are lots of options in life and if you want to get a feel of the game first, that's always a good idea. We put a demo of Madame Destiny Megaways right here for you that you can play for free. You won't win anything though, other than some knowledge of what might be in store for you in the future.
Free Demo to try Madame Destiny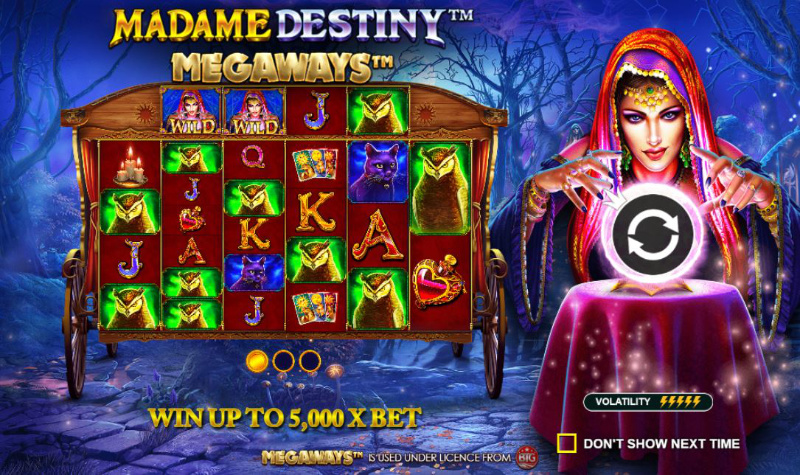 By pressing on "Play", I understand that I will be shown content from Pragmatic Play. You can find more information in our website's Privacy Policy as well as that of Pragmatic Play. Pragmatic Play
The other way to play Madame Destiny Megaways for free is to go to any of the casinos listed on this page and try it in fun mode. If you decide it's for you, it's really easy to switch to real money gambling from there. These sites also have welcome bonuses to give you some extra chips to extend your free play after making your initial deposit.
How to play Madame Destiny Megaways
Like with all Megaways slots, there are no paylines in Madame Destiny Megaways. You only need a minimum of 3 matching symbols that are next to each other, either horizontally, vertically, or just with a corner, to score a win. The more matching symbols there are, the higher the payout. Given that there are up to 200,704 ways to win, it can be a pretty profitable spin when everything lands right!
---


But wait, let's get back to the basics, just in case you are not familiar with Megaways games. Madame Destiny Megaways has a grid of 6 reels. Reels 2 to 5 can have up to 8 symbols, while 1 to 6 can have up to 7 symbols. Note the "up to" part, because sometimes it's fewer than that, as the reel size can expand or decrease. Additionally, Reels 2 to 5 have a row on top that spins separately from the main grid. Megaway slots might look a little complicated at first, but we promise it's really easy once you start playing!
---
Bets in Madame Destiny Megaways come with a 20x multiplier, making the min bet $0.20 a spin, and the max bet at $100 – without using either of the Bonus Buy options.
Special Symbols in Madame Destiny Megaways
The character symbols featuring the owl, cat, candles, tarot cards, and a heart shaped bottle are high value symbols. Then there are two special symbols that will trigger bonus features:
---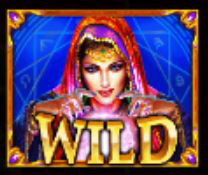 Madame Destiny: Wild. Can replace all symbols except Scatter to form a win with a 2x multiplier.
---

Crystal Ball: Scatter. 3 or more of these will trigger the Free Spins Round.
---
Special Features in Madame Destiny Megaways
There is always plenty of action in Megaways slots, and the Madame sees plenty of that in your future too. Highlights include these features and bonus rounds:
---
Tumble Wins
Typical of Megaway games, there is a Tumble feature in Madame Destiny. Whenever you have a combination of winning symbols, these will disappear after the win has been credited.
Remaining symbols will fall into their new place and new symbols will fall down from above. It translates into a free spin after a win. The best part is that the Tumble keeps tumbling until you get no more winning combinations.
Free Spins
A minimum of 3 Crystal Ball Scatters will start a round of free spins. Before the bonus round starts, a Wheel of Fortune will appear.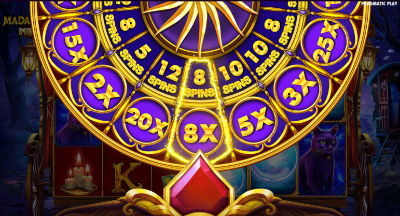 The Wheel is divided into two two parts – one for the number of free spins up to a max of 12, and one for a random multiplier up to 25x that will be applied to your wins. The Wheel will spin to determine what these things are for the round, and then the action begins.
How many Scatters you spin to enter the round will also affect how lucrative this feature will be for you. The more the better, because it determines your payout like this:
3 Scatters: pay 5x bet size
4 Scatters: pay 10x bet size
5 Scatters: pay 20x bet size
6 Scatters: pay 100x bet size

You can re-trigger the feature if you spin 3 or more Crystal Balls, and you will get a new Wheel of Fortune with a new number of spins and multiplier factor.
Bonus Buy Options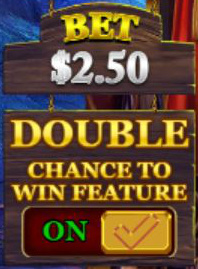 Ante Bet: If you want to double your chances of entering the Free Spins round, you can buy better odds with the Ante Bet feature. The cost of Ante Bet is a 5x multiplier difference in bet size. What on earth does that mean though?
In a normal bet size, Madame Destiny Megaways has a 20x multiplier, so that if you have a Coin value of $0.01 and Bet level of 1, for example, the size of your bet is actually $0.20. The Ante Bet feature is a 25x multiplier instead of 20x, making the minimum bet $0.25 instead of $0.20 in this example.
---
Buy Free Spins: If better odds aren't enough and you want certainty, you could also buy your way directly into the Free Spins round. It does come with a price tag though, at 100x your bet size, which means it starts at $20.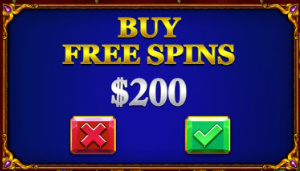 Players always ask whether Bonus Buy options are worth it, and whether the Ante Bet or outright Buy Free Spins is better. Of course, the answer always depends on each individual's style and budget, but our experts do have some tips for Madame Destiny Megaways. And we can explain it with a bit of maths.
Using the example of minimum bet above, where Ante bet will cost you $0.25 and Buy Free Spins would cost $20. You can get 80 Ante Bet spins for the price of the outright Buy feature. While there are no guarantees, your chances of entering the Free Spins round within 80 spins are actually pretty decent since Ante Bet doubles your odds of entering the round. You may very well be in before 80 spins. Therefore, for most players who have to keep an eye on their budget, Ante Bet is the better option.
However, since the Free Spins round in Madame Destiny comes with guaranteed multipliers leading to bigger wins, the cost of the Buy Free Spins option goes down. Although by how much is hard to say, since the multipliers are randomly generated with the Wheel of Fortune each time. If you have the extra chips to burn and you want immediate high paying action, then it's worth considering this route too.
Streamers Playing Madame Destiny Megaways

Like the original, Madame Destiny Megaways is a high volatility slot. And we all know casino streamers love games like these because the possibility of landing a big win is higher. So it should come as no surprise that there are several top streamers who've added the game to their playlist. These Twitch stars can regularly be found testing their fortune with Madame:
Xposed, for example, has scored seriously big in the Madame Destiny bonus rounds. With a 15x multiplier, the Tumble Wins just kept tumblin' and the streamer pocketed a huge $113k in one shot.
Streamers of this level obviously have a bigger bankroll than us average folks. You'll see these high rollers making huge bets one after another, but of course, the game is also suitable for budget players with min bet starting at $0.20 a spin.
Xposed plays Madame Destiny and wins
Madame Destiny Megaways FAQ
---
1.) What is the max win in Madame Destiny Megaways?
The max win in Madame Destiny Megaways is 5,000x your total bet size. This is decent, but it's not considered exceptionally high compared to the latest video slots that have payouts at over 21,000x and sometimes even touch the million dollar range.
Back to FAQ
2.) How much does the Madame Destiny Bonus Buy Cost?
If you are referring to the "Buy Free Spins" option that gets you directly into the Free Spins round, it is 100x your bet size. That means if you are playing with min bet size at $0.20, then it will cost $200 to enter the Free Spins round. If you are playing with max bet of $100, then that entry ticket will cost you $10,000.
If you are referring to the Ante Bet that doubles your chance of entering the Free Spins bonus round, that's a 25x multiplier on your bet size per spin. Meaning, it would be a minimum of $0.25 and a maximum of $2,500 a spin.
Back to FAQ
3.) Is Madame Destiny Megaways a Drops & Wins slot?
Yes. Being a Pragmatic Play slot means that you can easily find Madame Destiny Megaways in Drops & Wins tournaments at the casinos listed on this page.


If you don't know what these tournaments are, Drops & Wins are Pragmatic Play slots that pay out an extra weekly or daily cash prize from a prize pool. And that's in addition to whatever you win within the game, of course.
Back to FAQ
4.) What is the Madame Destiny Megaways RTP?
Madame Destiny Megaways has a RTP of 96.56%. The RTP increases slightly to 96.67% if you use either one of the Bonus Buy features. Both are good RTPs and are completely in line with other video slots.
Pragmatic Play has ranked the game's volatility as high, which means it will pay out less frequently than average, but payouts will tend to be higher.
Back to FAQ
The Experts' Roundup on Madame Destiny Megaways
Pragmatic Play has delivered yet another hit with Madame Destiny Megaways. Like the original slot, this is a high volatility game and the addition of the Megaways mechanic has turned the excitement level even further up a notch. Although max payout isn't exceptionally high, the multipliers are plentiful and do add up rather quickly to big payouts. See what your fortune is like by giving the game a spin!
Author: Vienne Garcia
Last Update:
Article reviewed: Madame Destiny
Author Rating: