Roshtein Casino Streamer
Roshtein Profile
Streamer Name:
Roshtein
Real Name:
Ishmael Swartz
Avatar:
Country:
Malta
Year of Birth:
Unknown
Favourite Casino:
Stake Casino
Specialities:
Big Bet Sizes
Biggest Win:
2.500.000$ in Fruit Party
Biggest Multiplier:
x35.581 in El Paso Gunfight
Net Worth:
estimated at $18.0 million
If you're looking for casino streamers to follow, then without a doubt, Roshtein should be on your list. One of the top slot streamers with more than half a million followers on Twitch, Roshtein is one of the most entertaining and highly ranked streamers.
Arriving on the scene in the early streaming days of 2015, Roshtein is the alias of Ishmael Swartz from Sweden.  The name is a nod to the infamous American gambler and kingpin of the same name from the 1800s.
Other than an infectiously warm personality underneath his long hair and hat, this streamer is known for betting big. Roshtein's bet size usually starts at 100 Euros a spin and then it goes steadily up from there.
His breakthrough came in 2015, when he managed to pick up a win of 5,000 Euros followed by another 900 Euro just a few minutes later. Today, he has roughly 17 million views per month and is famous for his high stakes and big wins.
Roshtein Games
Slots are Roshtein's battleground of choice, but are there any specific games that he spins on? As always, it's a Yes and No answer. Being a top international streamer, Roshtein does play a range of games from high variance slots to lower volatility games to appeal to diverse audiences.
However, he obviously has some favourites. Fruit Party, a slot game in which he collected his highest win to date, remains one of his go-tos. It's also one of the most entertaining streams to watch since there are plenty of roller coaster up and downs when you combine the slot's volatility with Roshtein's signature high stakes.
Other games that Roshtein can often be found playing include Dog House and Book of Dead, both relatively volatile slots that can deliver some pretty big wins. Every now and then, he also plays some slightly lower variance games like Dead or Alive, which can turn into quite the rush when they are matched with his aggressively big bets.
Roshtein Streams: When and Where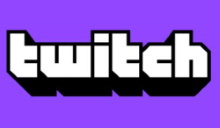 If you want to tune in to one of Roshtein's streams, then the surest platform is Twitch. You'll find that it's one of the top Twitch streams and you'll see it immediately along with the schedule. While Rosh doesn't play at fixed times per se, you will see that he's usually on in the afternoons and evenings, building up to some serious play around 8pm. That's Swedish time of course, where this casino star is located.
Alternatively, you can find some Roshtein videos on Youtube, although he only usually uploads one video per week, which is a lot less action than what you can find on Twitch.
Roshtein Casinos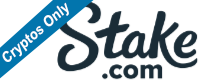 So where does the infamous Roshtein like to play? Again, while this streamer doesn't play exclusively at one casino, he does have some preferred ones like Roobet and Stake. The former is probably one of his top hangouts. While Roobet is pretty established and has been around for more than a few years, it's still relatively young compared to the big names.
Thus the casino is working hard to attract new players through popular casino streams, on top of offering better bonuses and first class service. You can find Roshtein playing at other places too, since many online casinos try to secure paid deals with top casino streamers for the exposure. However, if you want to try your hand at some of the places Roshtein plays at, then these are the most trusted casinos and the only ones that we would recommend for now.
Roshtein Bonus Hunts and RoshFails

Other than his high stakes, one of the reasons why Rosh is one of the most popular casino streamers is because of the different programmes he offers within his Twitch stream. The most famous is Bonus Hunts, where he collects free spins in different slots ahead of time and then plays them all in the stream, back to back with thrilling bonus games.
Any experienced player can tell you that slot bonus games are where the big wins roll in with extra multipliers, which all adds up to an adrenaline packed programme.
Another popular programme is RoshFails. This is exactly what you might suspect. They are the "highlights" of some of Roshtein's big losses. The guy is only human after all, and these can be fun to watch to share some of the more tragic moments with a laugh.
Roshtein on Social Media
Obviously Rosh has a good presence on social media. Depending on which platform you are looking at, you will get a sense of his gaming style and personality. While Roshtein is pretty good at keeping his private life away from the public, you can get a pretty good feel for what this man is about.
Roshtein on Twitch
One of the biggest casino streamers, Twitch is where you will find Roshtein in action. His stream is one of the most popular on the platform and it is one of the few that focuses on online slots, with specialties in free spins and bonus games. It's also the best channel if you want to chat and interact with the rockstar and likeminded viewers.
Roshtein on Youtube
There is also a Roshtein Live channel on Youtube. You'll find some of the highlights from his gaming here. Although his videos reach several hundred thousand viewers, it's still far away from his fanbase on Twitch. That's mostly because of Youtube's content restrictions on gambling. Nevertheless, this is a cool place to check out some of the streamer's previous wins and losses.

MoreLess
Roshtein on Instagram
On Instagram, you see more of Roshtein as a person. It's more about his life offline. He doesn't post anything about family or girlfriends, but you do see pics from some of his travels and experiences. Sometimes there are even pics and videos of some of the prep work he does before going into a stream. After Twitch, Instagram is Rosh's biggest channel with more than 87,000 followers.
Roshtein on Twitter
Rosh is also relatively active on Twitter with over 42,000 followers. Roshtein tweets mostly on upcoming streams and other information. He'll also retweet stuff that are potentially of interest to other slot players.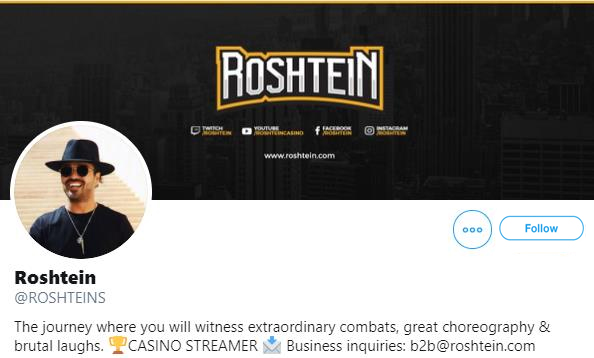 Roshtein on Facebook
Roshtein doesn't seem to be on Facebook anymore. His last FB post was in May 2019. Compared to other celebrities who consider Facebook as one of their primary platforms, this may seem like a bit of an oddity.
However, considering that this was one of Rosh's smaller presences with "only" 9,400 followers, it seems the man has decided to focus his energy on where the bulk of his fan base plays.
Roshtein's Net Worth
Most internet celebs don't like to advertise their wealth publicly, and Twitch stars are no exception. Still, everyone is curious as to how much money Roshtein makes, given his insane number of followers. It's hard to say exactly, but we can make some calculated guesses. Youtube usually pays somewhere between $3 to $5 per 1,000 views. His videos typically accumulate over 100k views. This would get him a few hundred dollars per video, so it's pretty much peanuts for this high roller.
Most of his income we're guessing comes from his partnerships with casinos. We don't know the exact deal he's cut, but he could be paid a fee to play at certain casinos. Or be given massive bonuses that he can use during his streams, the winnings from which he can keep a part of. Or he might be working as an affiliate. It's all quite hard to say.
But let's say he gets paid $120 per player that goes to a casino through him. For simplicity's sake, let's say has around 600,000 followers. If ¼ of them plays goes to a casino through Roshtein, then it adds up to roughly $18.0 million.
Roshtein's estimated income through casino referrals:
Number of followers
of which
active casino players
potential referral fee
$120
=
Estimated income
600k
x
25%
x
$120
=
$18.00 million
True High Roller or Fake Bets?

One of the rumours that have come out against Roshtein is that he's playing with fake bets, where wins and losses aren't real and just don't matter. It's easy to see how some of these accusations have started. With bet sizes starting at 100 Euros, and typically going into the 500 Euro range for several hours, this is serious high roller play.
However, no one has actually proven that these accusations are true. What we do know is that this guy is good at what he does and he certainly looks loaded when you check his Instagram.