Binance Review 2023
Binance Facts
Company:
Binance Holdings Ltd.
Founded in:
2017
Headquarters:
Melita Court Level 3 Triq Giuseppe Cali Ta' Xbiex XBX 1420 Malta
CEO:
Changpeng Zhao
Website:
Binance
Available in:
27+ languages
More
Less
Binance is a cryptocurrency exchange platform that also functions as a crypto-wallet. It was founded in 2017. Today is the one of the largest cryptocurrency exchanges in terms of trading volume.
Originally founded in China by Changpeng Zhao, Binance quickly moved to Japan due to changing regulations, before moving to Malta, where it now has its headquarters. While it started off with just the most well-known coins like Bitcoin, Ethereum, Litecoin and Ripple XRP, Binance now offers trading in 180 different cryptocurrencies.
To support its users, Binance also offers a crypto-wallet. For Canadian players who want to try cryptocasinos or just get into cryptocurrency trading, the Binance wallet is definitely an option to look into.

Since its launch in 2017, Binance has developed rapidly into a crypto powerhouse, rivalling Coinbase. In Spring 2021, Binance had 13.5 million active users, and the company has over 1,500 employees.
Beyond trading coins, Binance also has an Academy where new users can go through the tutorials to learn more about cryptotrading and the platform to get started. The company has its own cryptocurrency called the Binance Coin (BNB), and has also started its own stable coin, called the BUSD. Other major bonuses include a Binance credit card so that you can use your crypto anywhere with ease.
Contents
Pros and Cons of Binance
HitsMisses
Buy and sell more than 180 cryptocurrencies
Accepts Canadian dollar and 50+ fiat currencies
Extensive P2P payment network
Credit card available
Low fees
Some learning curve for beginners
No phone support
Key Features in Binance
As one of the largest cryptoexchanges and more established cryptowallets, Binance has developed a variety of features to suit different needs. Binance does tend to be geared towards more experienced and advanced crypto traders. Beginners may need a little bit of time onboarding. Nonetheless, it isn't too difficult and below are some of the key features to Binance that makes it such an attractive platform:
Large selection of digital assets to choose from
Accepts more than 50 fiat currencies
Fast trading platform
P2P payment network with 100+ options
No fees for transactions to friends
Own coin (BNB) and stable coin (BUSD)
Launchpad to discover new digital asset projects
For those who are on the lookout for the next big thing, the Binance Launchpad is where you will find new currencies preparing for their ICO (Initial Coin Offering). It can be a great place to get in early before the next wave.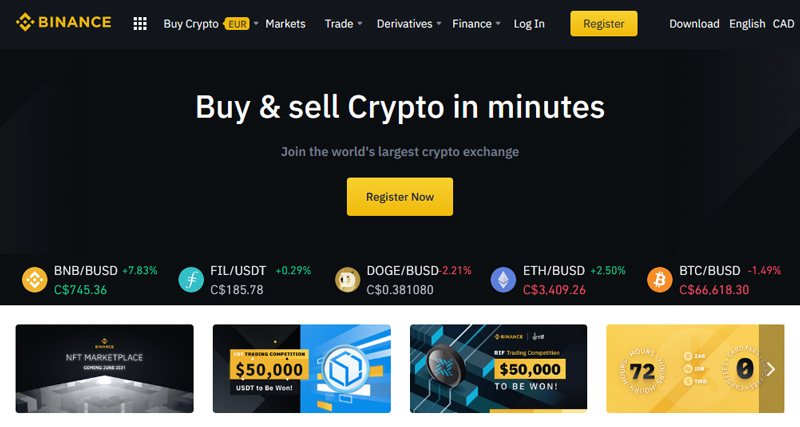 MoreLess
How to Sign Up for a Binance Account

You can only buy coins or trade on Binance after registering for an account. The initial process is simple and only requires your email address. Then you will receive a 6 digit code via email, with which you will verify your email on Binance.
Account verification on Binance
There are two levels of account verification in Binance:
Level 1: Before you make a deposit, you will have to enter basic info into your account, such as your full name, date of birth and address. Then you will then need to upload a government issued photo ID and a selfie. The selfie is a face verification process that will be done through the Binance app, which you will have to download onto your smartphone. Or you could do it through the webcam on your computer.
Level 2: You will need to complete identity and address verification. You will have to supply a utility bill with your name and address on it from the last 3 months. The name must be the same as the shown in the photo ID you submitted, and the address on the bill must be the residential address you entered previously. This is not different from account verification at an online casino.
Each level will open up higher trading limits and more features.
Binance Limits

Your trading limits as well as the functions you have access to in Binance will depend on which level of the account verification procedure you have completed.
Level 1: You will have a transaction limit up to $5,000 per day
Level 2: The transaction limit is increased to $10,000 per day.
It is possible to increase the daily limit beyond $10,000. Contact the Binance customer support for details.
Binance Fees
One of the reasons why Binance has become such a popular crypto trading platform and wallet is its low fees, especially when compared to Coinbase. The exact trading fee will vary according to your VIP level. As expected, the higher the level, the lower the fee. Binance also has an extensive Peer to Peer (P2P) payment network. Overall, users on Binance face lower costs. Below is a summary of Binance fees:
| Transaction type | Fee |
| --- | --- |
| Deposit in CAD | Free |
| Withdrawal (flat fee) | varies by cryptocurrency, eg. 0.0005BTC |
| Buying with credit card | 2% |
| Trading fee | 0.1% |
| BNB in account | 25% discount on all fees |
| Friend referral | 20% discount |

Binance Canada also works with popular Canadian banks such as TD, CIBC, RBC Royal Bank and BMO as payment methods.
What Cryptocurrencies are available on Binance?
With 180 coins listed, Binance offers one of the largest selection of digital assets on the market. Combined with the relatively low fees, this makes Binance the exchange of choice for many advanced cryptotraders. It's also one of the top platforms for new cryptocurrency projects looking to launch their ICO.
The most important cryptocurrencies you can buy and sell on the platform include:
If you're looking at any kind of regular trading, the Binance Coin (BNB) is especially worth considering buying because it will give you a discount on fees.

For casino players, the main currencies you want to consider getting are Bitcoin (BTC) and its fork Bitcoin Cash (BCH), Ethereum (ETH), and Litecoin (LTC). These coins are the most widely accepted at online casinos. Some of the more specialized cryptocasinos will also take other coins such as Tether (USDT) and Tron (TRX).
Loans and Financing Options
Going beyond basic buy sell activities, Binance also offers various crypto-financing options for those who take crypto as the newest investment space. Under the Finance tab, you will see options such as:
Binance Earn - similar to a savings account with different terms and interest rates available for varying risk thresholds.
Binance Pool - become a miner in the pool and earn a guaranteed minimum income.

Crypto Loans - use your existing crypto as collateral.
Liquidity Swap - add your own assets into the pool and get the transaction fees of other users in the pool.
Binance Academy: Crypto for Beginners

Clearly, Binance has a wealth of features. For those who are just getting into the crypto space, the Binance Academy has a lot of resources to help you get started. It's much more than just a tutorial to their platform, but the Academy also explains basic crypto concepts such as blockchain, NFTs, as well as more general economy and finance topics like trading and technical analysis.
Binance Visa: Use Your Crypto Anywhere
If you're wondering where you can use your digital gold, Binance has made it easy with their credit card. It converts your crypto into fiat, so that you can use it just like regular money for online or offline shopping. As long as the merchant accepts Visa, you're good. How it works is that you transfer crypto to your card wallet, and the exchange only happens when you make a purchase. Binance charges no fees for the credit card and you can even get cashback from your purchases.

MoreLess
Binance vs Coinbase


The main alternative to Binance is Coinbase, which has received a lot of media attention as it became the first cryptowallet publicly listed on NASDAQ. Both Binance and Coinbase are cryptocurrency exchange platforms with wallets for storage. The main difference is that Coinbase is easier to use for beginners, but has fewer coins listed and has higher fees. While Coinbase Pro offers lower fees for high volume traders, this option was not available in Canada at the time of review.
Binance App
Of course, in this day and age, everything needs to be cross platform and mobile ready. The same goes for crypto. The Binance app is available for iOS and Android and you will have a full functioning mobile crypto trading app in your hands in no time.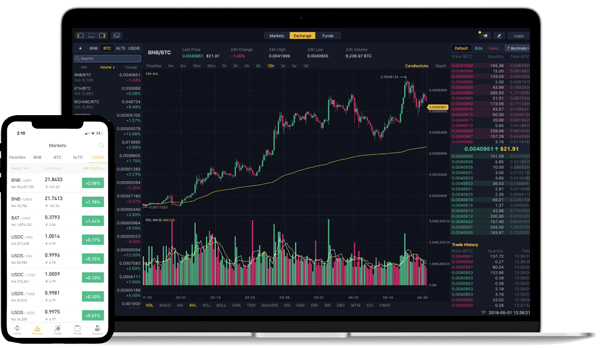 MoreLess
The Expert Conclusion on Binance


Along with Coinbase, Binance is one of the most established crypto-trading platforms today, and it also offers a wallet where you can use and store your coins. The platform accepts 50 fiat currencies, including the Canadian dollar, so you can directly buy crypto from Binance. With a listing of 180 coins, low trading fees and numerous innovative financial features, Binance has become a popular choice among crypto enthusiasts.
Last Update:
Article reviewed:
Binance
Author Rating: