Linneafly Casino Streamer
LinneaFly Profile
Streamer Name:
Linneafly
Real Name:
Linnea Maria Leon
Avatar:
Country of origin:
Norway
Year of birth:
1989
Favourite Casino:
LeoVegas, Ola Spill
Specialities:
Slots, Modelling
Biggest Win:
unknown
Biggest Multiplier:
unknown
The casino streaming scene tends to be dominated by men, but there are women casino streamers. LinneaFly is one of them and she is definitely making a name for herself. This babe from Norway is one of the hottest women casino streamers on Twitch right now with over 52k followers. She's also a Youtuber.
Also going by the name of Linnea Maria, LinneaFly has been putting her passion for games and modelling on the internet since 2011 and has been streaming since 2013.
She's pretty, she's cute, and she is not scared to play with the boys. LinneaFly been into gaming with Super Mario brothers since she was little, so she knows what she's doing. Other than slots, she likes to battle it out in League of Legends, World of Warcraft and Blade & Soul. This girl does describe herself as a Norwegian Viking after all.
Linneafly Games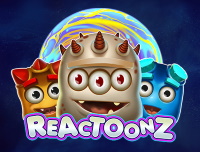 When it comes to casino games, Linneafly is all about the reels. Volatile slots like Rise of Merlin from Play 'n Go and Sword of Kahns by Thunderkick have been getting a bit of airtime on Linnea Maria's streams lately. Reactoonz is also one of her favourites, along with other games like Gonzo's Quest that break away from the traditional slot grid. Clearly, the girl enjoys the thrill of risky games.
Linneafly games aren't limited to just slots though. This Viking babe is also a big fan of esports and MMORPG games like LoL, Warcraft and Child of Light. You'll see these in her streams too.
Linneafly Streams: When and Where
As she says on Twitch, Linneafly streams every Wednesday at noon, Central European time. Her streams are usually around 2 ½ hours long. Still, that's a bit early at 6am if you're in Ontario. If you're a night owl out in BC that makes it 3 am for you. If you can't make it, you can always watch recordings of her casino streams on Twitch. Linneafly also streams regularly on Sundays, but she doesn't have a fixed time for that. She'll sometimes go on on other days as well, but that's not part of her regular schedule.
While many casino streamers will upload their slot streams to Youtube, this Norwegian gal doesn't have too many recordings of her casino sessions there. Her Youtube channel looks like it hasn't been updated in a while. Most of the videos there are her Breakfast with Linneafly episodes, unboxing vids, vlogs with her and her cat and other recordings.
Linneafly Casinos
When it comes to slots, Linneafly is usually playing at Ola Spill Casino. Ola Spill, like many of the other casinos Linneafly plays at, is really targeted towards Scandinavian players. Other than the language issue on these sites, players in Canada will find that the bonus offers could be better. If you want to give those Linneafly slots a go for yourself, then we suggest checking out LeoVegas or NetBet. Both have good casino bonuses for Canadian players.
What's Special About Linneafly?
From the casino side of things, Linneafly makes relatively small bets, at least when compared to her male counterparts. Still, it's a pleasure watching her play. You know she's playing with real money on those high volatility slots and that's pretty gutsy.
The girl streams a lot of her WoW and other MMORPG games on Twitch, and it's obvious that she's much more than just a slot streamer. She also loves to chat and interact with her fans as she plays.
Our female star is very open about her personal life, and sometimes her Bengal cat, Leon, will wander onto the screen in the middle of a stream. She often has short videos with her cat, her travels, or just going to Ikea with her friends. Of course, we can't possibly forget to mention that Linnea Maria loves to model her gorgeously curvy body for the camera, which you'll see plenty of on Instagram.
Linneafly on Social Media
Linneafly is not a shy girl and she's really open about her life. Linnea Maria is very active on social networks, especially on Instagram where you'll find plenty of photos of her showing off that booty in different swimsuits.
Linneafly on Twitch
Linneafly streams and videos are focused on Twitch, where she has 53,300 followers. While she's proud to be a Norwegian Viking, Linnea streams and chats in English.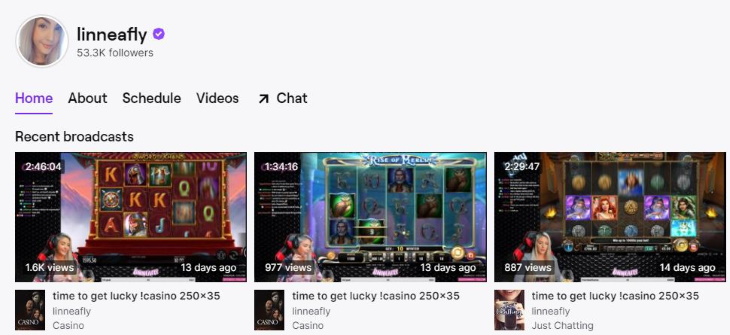 Linneafly on Youtube
There are tons of videos on Linneafly's Youtube and you'll see plenty of vlogs with her and her cat, unboxing new gear, recordings of her excellent esports performance, as well as episodes of her Breakfast with Linneafly series. She has a bit over 2,300 subscribers here but she hasn't updated her Youtube for almost a 4 months now. Seems she's really moved over to Twitch.
Linneafly on Instagram
The Viking is gorgeous and she knows it. Linnea Maria is proud to pose in front of the camera on Instagram, modelling swimsuits and with her surf board. Of course, her 13k fans will see her with more clothes on while she hangs out with friends and her cat too.

Linneafly on Twitter
Linneafly has been on Twitter since 2012 and has around 6,500 followers. She tweets a lot about what's going on in her life, like when she first decided to post her lingerie photos and her travel adventures. Needless to say, she also tweets about her streams too.
Linneafly - Gamer, Streamer and Model

Although streamers have a reputation for being a bit geeky, Linneafly certainly knows how to make her streams smart and sexy. With her signature platinum hair, our Viking heroine shows that girls can play just like the boys.