JackpotRabbit Casino Streamer
JackpotRabbit Profile
Streamer Name:
JackpotRabbit
Real Name:
Ant, Billy, Mike
Avatar:
Country of origin:
unknown
Year of birth:
unknown
Favourite Casino:
EUSlot, Party Casino
Specialities:
Slots, Long streams
Biggest Win:
unknown
Biggest Multiplier:
unknown
If you're looking for an up and coming casino streamer, then JackpotRabbit may just be what you are looking for. Having only began streaming slots on Twitch in 2020, Jackpot Rabbit has managed to quickly gain 19,300 followers.
There isn't much personal info about the people behind JackpotRabbit. We know that it started off with Ant and Billy, but it's not clear if the good looking guy and gal are a couple. In any case, they certainly have a good working vibe between them. Recently, Magic Mike has also joined the duo.
Although it seems they're all in Europe, it's not clear exactly where they are. However, they do stream in English and we do know they love to play slots.
JackpotRabbit Games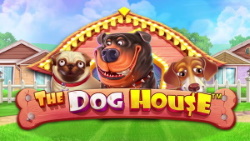 JackpotRabbit is into slots. They don't say it explicitly, but at least we only see slots in their streams.  Everyone knows that high volatility slots are the best thing to watch. There's nothing quite like seeing someone risk a chunk of money that could go straight down the drain  – or bring back some serious dough.
Thus, like with other casino streamers, there's a solid handful of high volatility reels thrown into Jackpot Rabbit's gaming. Fruit Party, Dog House Megaways and such are regulars on their streams.
Once in a while, they'll play chilled out, low variance games like Fat Rabbit to keep the cash flow steady. True to their name, they also head to the jackpot slots like Divine Fortune every now and then.
JackpotRabbit Streams: When and Where
JackpotRabbit streams on Twitch exclusively and you'll see they have a pretty rigorous schedule posted in the About section. Being a small team of players, they can pack in more than your usual one man show. They have gaming sessions every afternoon from 1pm to 9pm, European time from Sunday through Fridays. That means they stream every day of the week with the exception of Saturday.
Or at least in theory it does. When we last checked, they hadn't streamed in the past two weeks. We're not sure why, but crap happens and maybe it's just part of growing pains.
In any case, recordings of their streams can always be found on their Twitch and JackpotRabbit does make a point to upload their videos onto Youtube. This makes it more convenient for Canadians who might not be able to make it to the live streams because of the time difference.
JackpotRabbit Casinos
JackpotRabbit plays at several casino sites, and they also have a partnership with EU Slot Casino. Most of the sites they play at tend to be smaller casinos. While they are all licensed and whatnot, if you're looking to play the games you see on Jackpot Rabbit's streams, you can probably find more tried and tested casinos. Our recommendations would be Party Casino, which has a 100% bonus with 20 Free Spins for Canadian players.
What's Special About Jackpot Rabbit?
The first thing about JackpotRabbit is that they're a team of different streamers. They started off as a couple and have since grown into a trio. Sometimes you'll see them together, but mostly they stream separately. What this means is that you can choose from different personalities.

Ant is a sultry lady who has some hot tattoos. Billy is a pretty straightforward kind of guy with his beard and baseball cap. Mike is a down to earth kind of dude. What all three of them are very good at is interacting with their followers and you'll hear them chatting away while they play.
Their streams also tend to be longer than average. Most of them have been around 8 hours. That's roughly twice as long as most casino streams. If you're looking to tune in and mellow out for a while, this may be the perfect choice.
JackpotRabbit on Social Media
You could say that Jackpot Rabbit is still rather new to the game and outside of Twitch they haven't gathered too much attention yet. They do seem to be working on it though, and have a few things set up on social media. In general, they've chosen to keep their private lives away from the public and to simply focus on the gaming instead.
JackpotRabbit on Twitch
Twitch is where you will find most of the JackpotRabbit action. They have 19,300 followers here and their streams typically have a couple of hundred views, sometimes going up into the low thousands.
JackpotRabbit on Youtube
You'll find that the JackpotRabbit Youtube channel has recordings of their streams. Their number of subscribers here is rather paltry with just 6 subscribers. The view count for their videos tends to be on the low side too, probably averaging less than 10 views per video.

JackpotRabbit on Facebook
JackpotRabbit posts regularly on Facebook and it's almost always about their slot streams. Again, the following isn't strong but if you're on FB then it's an easy way to see what the rabbit is up to.
JackpotRabbit - Always Digging for Carrots

As they like to describe themselves, JackpotRabbit are just some bunnies digging for carrots. Having started only this year, they don't have as strong a following as some other casino stars. However, they are certainly are doing many things right and they're clearly working hard to become a force in the scene.