iamLaura Casino Streamer
iamLaura Profile
Streamer Name:
iamLaura
Real Name:
Laura
Avatar:
Country of origin:
Australia, now in Europe
Year of birth:
unknown
Favourite Casino:
Mr Green
Specialities:
Slots and Assassin's Creed
Biggest Win:
unknown
Biggest Multiplier:
unknown
iamLaura is another hot streamer to follow on Twitch. She's hot in every way. A voluptuous model with a daring personality, iamLaura is famous for her big bold bets in her online slot streams.
Occasionally she'll also stream Assassin's Creed Valhalla. She's fairly new to this whole thing but already has a follower count of 28.6k followers and the number is steadily growing.
This babe originally hails from Sydney, Australia, but has moved to Europe with her boyfriend, whom you can see on her Youtube channel where you can see them just being a normal couple.
No doubt, this bombshell has more than her fair share of male fans. Her personality is a charm too, and you'll see she's actually a very down to earth and approachable person in her Twitch streams.
iamLaura Games
iamLaura specialises in slots. She plays a range of games, ranging from medium variance slots to high volatility games, which is nice because a lot of streamers tend to focus on high volatility slots only.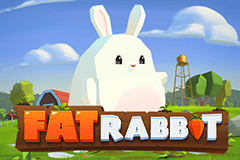 Fat Rabbit from Push Gaming, for example, can often be found on iamLaura's stream. It's an awesome looking, low to mid variance game in a 5 x 5 grid with 50 paylines that delivers steady wins. Wild Blood II, a medium variance slot with 4,096 ways to win over 6 reels, has also seen some airtime here.
Obviously, iamLaura also plays slots in more traditional 3×5 formats too. Book of Dead is always a hit, and she can also be found showing off her skills and dare in Rise of Merlin, a risky, high volatility game that can pay well when you manage to line things up right.
When not spinning, iamLaura also indulges in Assassin's Creed in sessions that can go almost up to 4 hours long.
iamLaura Streams: When and Where
iamLaura streams are exclusively on Twitch. Her schedule posted on Twitch shows her streaming on Monday and Tuesday evenings, roughly from 5pm until midnight in Europe. While she does stream regularly, this is not the tightest schedule compared to more hardcore streamers who stream almost every day.

If the time difference between Europe and Canada makes it difficult for you to catch her streams live, then you can always watch the video recordings on her Twitch page later. Although she does have a Youtube channel, she hasn't really uploaded her slots stuff up there so far.
iamLaura Casinos
iamLaura plays at a couple of online casinos, but for the moment the only casino she plays at that we would recommend to Canadian players would be Mr Green. The others are all EU licenced casinos and are fine, but they don't have a solid reputation among players. At least not yet. You'll easily find iamLaura slots at Mr Green, which has excellent support and plenty of promotions you can pick up. Other reputable casino sites where you can play the same games as Laura include Wildz Casino and Party Casino.
What's Special About iamLaura?
iamLaura is a total, badass babe. There we said it. When not playing slots on Twitch, she's modelling swimsuits and showing off her tattoos on Instagram. She's clearly a gutsy girl, but it's more than just about being skimpily dressed.
A native of Australia, she moved to Europe with her Serbian boyfriend Milan Djordjevic Crni. She's learnt the language too, and on Youtube and Instagram you can see them together.
Other than this though, we don't know much about her private life. We don't know her last name or her date of birth, but we're guessing she was born in 1992 based on her handle name on Instagram.
Unlike other streamers, Laura seems to keep her slot streaming and other interests relatively separate. She's a woman of many passions and chooses to focus them into specific channels.
iamLaura on Social Media
iamLaura can be found on social networks like Instagram, Youtube and Twitch. However, in terms of casino games, it's mostly on Twitch. It seems she's relatively new to this whole thing but she's quickly building a solid fanbase in the thousands across these channels. Being beautiful certainly doesn't hurt!
iamLaura on Twitch
Twitch is where iamLaura is most active. She has over 28,600 followers here and interact with her fans regularly in the chat when she streams. She gets a lot of views here, sometimes going up past 30k per stream.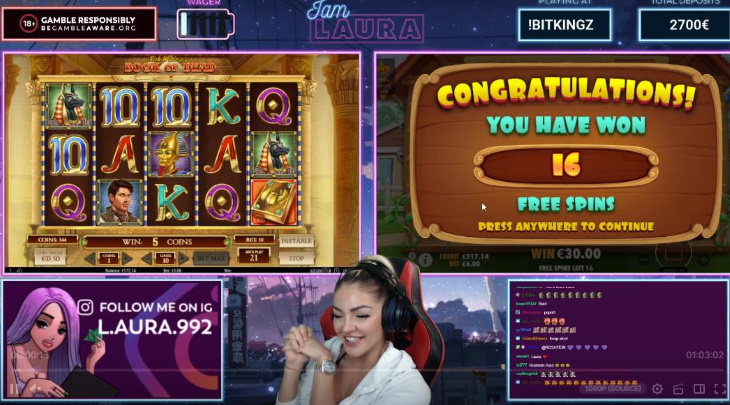 iamLaura on Youtube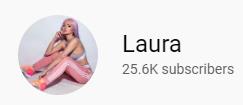 Ok, first of all, the iamLaura on Twitch is not the same as the iamLaura you might find on Youtube from a simple search. The iamLaura we want is known simply as Laura on Youtube. You know you've hit the right one when you see her signature pink.
Although she only opened this channel in 2020, she already has over 25.6k subscibers. However, before you get too excited, we have to say that her Youtube videos are mostly her with her boyfriend doing various challenges or hanging out with their friends and chatting in Serbian.
iamLaura on Instagram
If you want to check out photos of this hot babe, Instagram is the place. Laura is not shy at all and is happily in front of the camera in bikinis and swim suits. She also has some awesome tattoos. Lots of eye candy here for her 118k followers.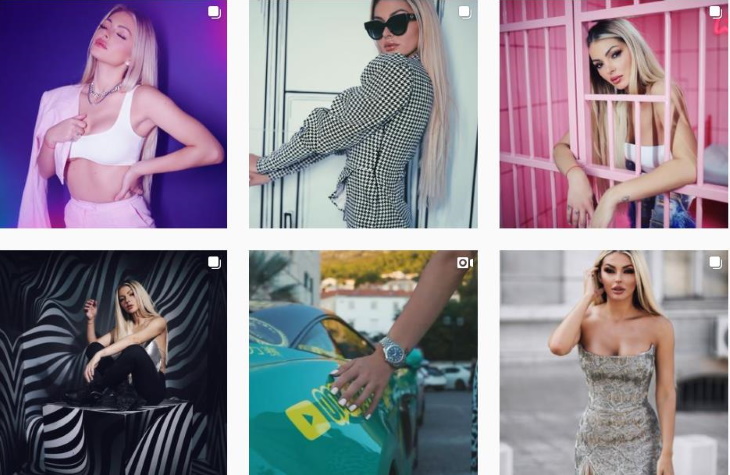 iamLaura - Bombshell Slot Streamer
Although iamLaura is relatively new to the whole casino streaming scene, she is quickly gathering a following. She's hot and charming, and pleasant on the eyes. Of course, her big bets on slots add to the excitement too.