William Hill Casino App
In today's hectic paced life in which we are always on the go, we tend to lean heavily on our mobile devices. Heck who, are we kidding? Even when we're bumming around we are constantly on online. And more often than not, looking for what to do. Which is where the William Hill mobile casino comes in.
After all, since we like the standard desktop version so much, it makes sense we'd like to access to William Hill Casino from the palm of our hand as well. The more opportunity the merrier, right?
Well, it turns out following our team's review, that both the William Hill Casino apps as well as the HTML5 mobile optimised website stand up well to our rigorous critique with great performance, game variety, and more.
Continue reading
Less
William Hill App: Advantages and Disadvantages
Hits:Misses:
William Hill website is fully mobile optimised
Dedicated casino apps for iOS
Great game selection
Excellent visuals
Download apps have fewer games than the full website
William Hill Mobile Games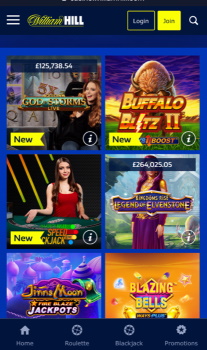 One of the things we really like about the William Hill experience as a whole is the game selection, which thankfully carries over to the mobile realm as well. That is, when you choose to play from your mobile device, you will not be limited by game selection.
Rather, you will find all of your favourites right there at your fingertips, particularly if you choose to play directly from the inherently mobile-optimised website. You can read more about that below.
That means you have instant and convenient access to all of your most beloved games, like the hundreds upon hundreds of mobile slots available here, as well as dozens upon dozens of jackpot games.
Actually, when you log in to the William Hill website from your tablet or smartphone, you will find all of the fantastic game types you seek including table games, card games and arcade games all shrunk down to size fit your screen, without compromising on quality.
Since William Hill runs on the Playtech platform, the majority of the games you'll find when you play mobile are Playtech titles. These include all the oldies but goodies like
Frankie Dettori's Magic Seven
DC Comic jackpot slot titles
Beach Life progressive jackpot
That being said, there is also a nice selection of games by other casino software developers like NetEnt, NextGen, and Evolution Gaming.
Unfortunately, there aren't any Canadian themed games or even a hockey version, but we'll forgive them for that!
Continue reading
Less
William Hill Casino App Download
While you can certainly play all William Hill Casino games from your mobile phone by browsing to the casino's website, there is another option for those who are so inclined. And that is to download the casino app.
"The main advantage here is ease of access. That is, once you have downloaded it to your phone, or tablet, or even both, you will see a William Hill Casino icon on your screen. This way you just tap the icon to open the casino and log in easier than ever. That's the big advantage if you ask us." Chris Webber – Casino App Expert
William Hill Mobile for iOS


Since players use mobile devices with different operating systems, William Hill has developed its casino app in kind.
That means if you are using an Apple device like an iPhone or iPad, then you can download the app directly from the App Store, free of charge. However, we do suggest downloading the William Hill app from the casino's site itself as there are loads of fakes on the App Store. For the regular casino experience, you would choose to download the William Hill Casino app. And if you would like live games in particular, there is the William Hill Live Casino app as well.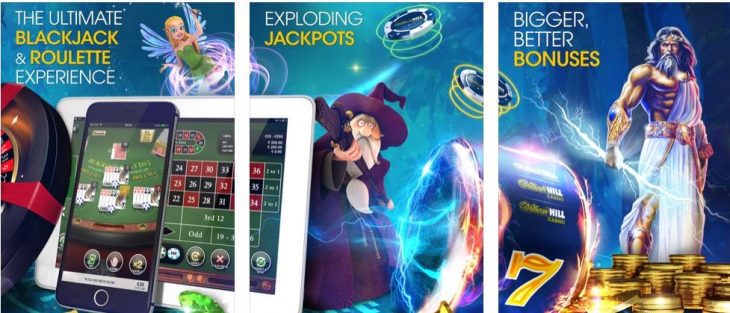 William Hill Mobile for Android

For those of us who prefer Android devices, there used to be a William Hill Android app and you can still see the link to it on the William Hill site. However, tapping on the link will not yield any results in the Google Play store. If you are on an Android phone or tablet, then you will have to play on the casino's mobile site.
William Hill HTML5 Casino

If you prefer not to download an app, you can always play on the William Hill website from any browser on your mobile phone – Safari, Chrome, FireFox, Explorer, and more. The site is programmed to adapt to fit any sized screen, so you can rest assured that you'll see all the details you need for any game type, including all slots and roulette, with optimised navigation to match.
Advantages of the William Hill App for iOS


The big advantage of the William Hill app as we alluded to above, is mainly a matter of convenience. For example, a number of our review team members at Casino.Guide say that an actual app that you can download is key for getting a good mobile review. From their perspective, with the icon on your screen, you're just a tap away any time you want to play. And that's the ultimate in UX.
With a download app, you also get push notifications if you turn them on, which some players like. And if your internet connection is sketchy, it doesn't affect your play.
Continue reading
Less
Advantages of the William Hill Mobile Casino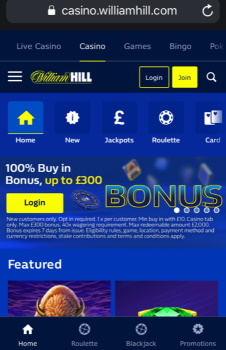 That being said, there are three main advantages to using the William Hill website for your mobile gaming. The first is choice.
Simply put, there are actually more games available to you from the website, which means by logging into the website you know you always have access to the full game repertoire.
The next advantage is that the website uses the exact same username and password as you already set up for your account, so it is a seamless shift from any device.
And finally, some people just don't like to add more apps to their handheld device. And that's okay. You have a good alternative with this – the HTML5 website that is.
Continue reading
Less
The Expert Roundup on William Hill Casino Mobile

The William Hill mobile casino is, in our opinion, an excellent experience for Canadian players. It takes everything that you love about the original William Hill Casino and just makes it smaller while maintaining its large appeal.
Whether you choose to download the app or play directly from the William Hill website, you get handheld convenience, great game selection, and always safe and fair play – on the go, from your couch, or anywhere you please.
Last Update:
Article reviewed:
William Hill App
Author Rating: