Tellia Casino Streamer
Tellia_ Profile
Streamer Name:
Tellia_
Real Name:
unknown
Avatar:
Country of origin:
France
Year of birth:
1995
Favourite Casino:
Mr Green, BitCasino
Specialities:
Slots and GTA
Biggest Win:
unknown
Biggest Multiplier:
unknown
Another up and coming slot streamer to watch for is Tellia. This 25 year old brunette from France just started doing casino streams on Twitch in 2020.
We suppose the lockdown has led people to trying different things and this smart cookie has already quickly amassed 40k followers.
Technically, her Twitch name is Tellia_ – that's with an underscore, but let's just do away with that because we all know who we are referring to. Little is known about Tellia, as she seems to prefer to keep her private life under wraps.
But she does seem to be a gamer at heart. Other than slots, she also likes to take on the boys in poker tournaments and Grand Theft Auto.
Tellia_ Games
Tellia is first and foremost a slot streamer. Like many other slot players, she's been enjoying Megaways like Extra Chili and other slots like Rich Wilde and the Tome of Madness from Play 'n Go.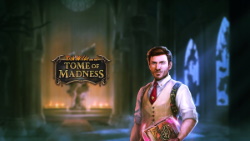 Although not technically a Megaways game, Tome of Madness is a 5 x 5, high volatility slot with all ways win. Its special features include infinite Free Spins, plus multipliers and mega wilds, with a max win that's 2,000x bet size.
It's easy to see why casino streamers like Tellia love this game. Obviously, Tellia also plays more traditional slots like Wild West Gold and Legacy of Dead.
While she brands herself as a slot streamer, Tellia does love a good game of poker and frequently takes on live dealers. Grand Theft Auto is another Tellia game and you can find regular GTA 5 streams on her Twitch.
Tellia Streams: When and Where
If you want to watch Tellia play, then the only place you can do that is Twitch. She doesn't stream anywhere else. Although Tellia states on her Twitch profile that she streams daily, she's currently posted a schedule for Tuesday, Thursday and Sunday, starting from 10pm until 2am in France, or late afternoon in Canada. In any case, she definitely does stream frequently.
The stream and chat are in French. If your French is a bit rusty, then it might be a bit harder to join the chatter but you can certainly get a feel for the excitement in this girl's slot play.
If you can't catch the live stream, then you can always check out the video recordings on Twitch. Unlike most other streamers, Tellia does not have a Youtube channel. Or at least not yet.
Tellia Casinos
Tellia usually plays at Bitcasino, but we would not recommend this as a first choice for most players. Sure, bitcoin is super hot and gambling with it is super sexy, but practically speaking, not many of us actually own any bitcoin. Then there's the fact that our star is limited to casinos in France, which are subject to a lot more regulations than anywhere else.
If you don't have to, don't play at a French online casino. Players in Canada have a much wider and better choice when it comes to finding a reputable casino sites that have better promotions. If you want to play online poker, we recommend 888 Casino, which has a proper poker room with regular tournaments in addition to the usual Hold'em games over at the Live Casino. Another good choice is Mr Green.
What's Special About Tellia?
Tellia knows how to work it. While you do see her in person on her streams, the fact that she's maintaining a bit of a mystery to her personal life adds to her charm. Even her profile pic on Twitch is an avatar. Plus, it's clear Tellia has the brains to go with the looks. She can go as confidently into a game of poker as she does into a game of slots.
Tellia on Social Media
Having chosen to keep her private life private, you won't find too much about Tellia on social media. We don't even know her last name. We just know she's in her mid-twenties, from France and is big on GTA when she's not spinning slots.
Tellia on Twitch
Tellia, or more precisely Tellia_, only started streaming slots on Twitch in 2020. The streams are in French and so are most of her 40,000 fans here. Unlike most other streamers, Tellia doesn't have a Youtube channel so if you want to check out recordings of her streams then you should head directly to her Twitch.
Tellia on Instagram
On Instagram, Tellia has several photos of herself and the occasional ones of her cat. A Russian blue, if you're curious. The babe has over 900 followers on the 'gram, but she hasn't been particularly active on this platform with just 10 posts to date.

Tellia on Twitter
She may not have a strong presence on other social networks, but Tellia is pretty active on Twitter. Although she only has 3,300 or so followers here, she tweets frequently and you can get a feel of her personality here.
Our streamer girl tweets and retweets all sorts of stuff, from snippets of Peaky Blinders to animal videos. Of course, she also tweets about her streams here.
Tellia - the Mystery Girl Streamer
As far as women streamers go, Tellia is definitely making waves fast. Although she's only been streaming slots for less than year, she's been winning over many French speaking fans. While definitely pretty, Tellia stays focused on the game and that's a win for many viewers.