Mr Green Casino App
Mr Green Casino has invited the most prestigious game providers and assembled them in a second-to-none mobile gaming platform that is a pleasure to play in. A lot of industry experts happen to agree. Mr. Green has been named IGA Mobile Operator of the Year 2016 and garnered other top awards more than a few times in the past decade. Our Casino.Guide test team will take a look at their HTML5 mobile-friendly, in-browser website as well the Mr Green app in our Mr Green Mobile Casino review.
Whether you prefer NetEnt, Play 'n GO, Playtech, Microgaming or Yggdrasil, you will find their games available as mobile slots at Mr Green. Mr Green's award winning Live Casino is equally sharp on phones and tablets as on the desktop casino. When it comes to sports betting, time is of the essence. Check in to Mr Green's mobile sportsbook so you can look at the latest odds and place your bet no matter where you are. There are plenty of markets of interest to Canadians, including the NHL and MLB of course!
You can play on the mobile website in a browser on virtually any device, at home or on the go. No downloads. Or check out two specially developed mobile apps, for Android and iOS.
Mr Green App: Advantages and Disadvantages
HitsMisses
Choice of mobile site or app for iOS and Android
Clean and intuitive mobile design
Excellent choice of games
Flawless video in live games
Apps have fewer games than website
Live games can eat a lot of data
Mobile site takes a few seconds to load
Mr Green Mobile Games
Mr Green Mobile Casino is constantly refreshing itself with new offerings. Few casinos compare in the breadth of selection and game quality. The latest mobile slots are designed to come to life with the touch screen as you tap and swipe the reels. There is also a generous selection of mobile live dealer games on offer to get your ticker pumping.
Table game players will love Mr Green's versions of Texas Hold'em and Caribbean Stud Poker. The video stream is flawless but it can eat up your data very quickly. It's best to play on a wifi connection so you don't rack up your phone bill. There's no need to give more money to Bell or Rogers when you can be using the money to play!
Regardless of your device, you can be sure that you will have a fantastic time at Mr Green Mobile Casino. The Android and iOS apps for Mr Green are always up to date. The HTML5 mobile website runs in any up-to-date browser, regardless of your device or platform.
---
Tip: Should you run into any problems, do check that your browser is the latest version available.
---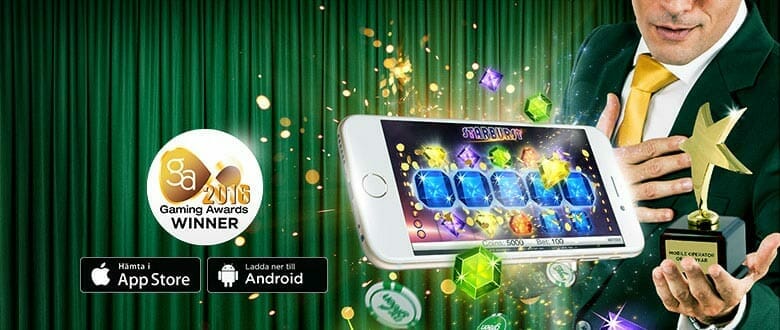 MoreLess
Mr Green App Download
The Mr Green Casino app is available for both iOS and Android, and can be downloaded and installed in seconds. Just scan the QR code on the Mr Green website or visit the App Store if you are on an iPhone or iPad.
Beware of imitators because there are many! Our tip is to go to the Mr. Green website and download the app from there. The Mr Green app download will only take a few seconds and then you're ready to go!

Mr Green Mobile for iOS
The Mr Green iOS app will play beautifully under your fingertips. Menu navigation is intuitive. Scrolls are smooth. Games are sorted and displayed by category. It's easy to log in, make payments and do everything that you enjoy. Naturally, the real money app is password protected so that it can only be used by you.
Mr Green Mobile for Android
If you visit Mr Green's website you will find the instructions to download and install the Mr Green Android app. Don't worry, it's a snap and you'll breeze through installation and start enjoying the wide range of games and bonuses in no time. Technically, you will need a device that is on Android Lollipop version 4 or later. This basically translates into any Android phone or tablet that was released in 2014 or later. Chances are that if your cell is still working today, it will work with the app.
Continue reading
Less
Mr Green HTML5 Casino
If you want the broadest game selection and prefer not to download, just call up Mr Green from your browser and the Mr Green website will optimise itself for your device. You will find the full spectrum of slots, table games and live games. All displayed intuitively and fitting your device perfectly from any updated browser, including Chrome, Firefox, Edge and Opera.
Advantages of the Mr Green App for Android and iOS

The Mr Green Casino app has been fine-tuned for Android and for iOS to optimise performance on the respective devices, both for smartphones and tablets. Game selection is wide although it has been narrowed down a bit to use less storage space.
In terms of performance and load times, the Apple and Android apps from Mr. Green have several key advantages. Games can be played successfully even when the internet connection is not strong because the results are saved on the app, so data is not dropped.
Deposits and withdrawals work just as easily and securely on the apps as on a PC. This allows you to top up your credit on the go without any difficulty. You'll also get notifications so you can be one of the first to know whenever Mr Green releases a promotion or a new game.
Continue reading
Less
Advantages of the Mr Green HTML 5 Casino

Mr. Green's mobile website doesn't play second fiddle to the desktop casino. The mobile site is just as robust. Play whatever you want. The game selection is huge. There is no download. If you've already registered, just log in. Your credits show instantly. Deposits and withdrawals are easy. All you need for the Mr Green mobile site is an HTML5-capable browser, which all smartphones and tablets support, including Windows phones.
The mobile Mr. Green website is recommended if you have at least 3G internet access, LTE, or better yet your wifi connection at home. With weak internet, you may experience interruptions or sub-standard performance. In that case, the iOS and Android apps perform a little better but they don't offer the same huge selection of games.
Continue reading
Less
The Expert Roundup on Mr Green Mobile


The Mr Green mobile casino is up there with the best. Plus points include the diversity of delivery options, the abundance of games from some of the best providers, and the high performance and fast load characteristics across the board.
Mr Green lives up to its claim that players deserve the widest possible choice in terms of games as well as accessing the casino on their preferred devices.
Whether you prefer the mobile web site or the Mr Green app, you can be assured a pleasant and secure playing experience. With Mr Green's solid performance on our performance tests, gaming excitement on the go is guaranteed!
Continue reading
Less
Last Update:
Article reviewed:
Mr Green App
Author Rating: