MagicRed Mobile Casino App
Way back in the olden days of online gaming, like even ten years ago max, mobile casino games were hard to find. And the concept of a mobile casino as an entity unto itself was only in its infancy.
Things have quickly changed since, and mobile is now starting to dominate. So much so that it is almost assumed that any online casino you are interested in would be available from your cell phone as well.

Maybe this assumption is why MagicRed doesn't go about touting its own mobile horn. The site, after all, was born in the advent of the mobile casino days in 2014, and as such has taken on its mobile identity and abilities as a given.
This is all perhaps just a fancy way of saying that while MagicRed Casino does not make any explicit mention of mobile anywhere on its site, it is entirely mobile compatible across every aspect from wagering, banking, bonuses, and play.
Again, this is becoming the standard in today's market, as all online casinos are embracing the trend of mobile gaming. But MagicRed does deserve a shout out nonetheless, because it does the mobile thing well. And by that we mean the navigation is well organised, the games correctly squeeze down in size to fit smaller screens, and so long as you have a steady internet connection, gameplay itself is super smooth.
MagicRed Casino App: Advantages and Disadvantages
Hits:Misses:
Fully mobile compatible games
Easy to use with clear navigation
Works well on iOS and Android devices
No casino app available for download
MagicRed Mobile Casino Games
The thing about a mobile-first online casino like MagicRed is that all of its games are mobile compatible. So if you have already visited the casino from your desktop, the catalogue will feel more than familiar, it is actually the same.

If you've yet to read our review of MagicRed games, in a nutshell MagicRed has a very nice assortment of casino games from some of the better casino software developers. One thing we actually really like is the predominance of Play'n GO games, which don't always get centre stage at other online casinos. Other gaming companies powering the casino include NetEnt, Microgaming, Thunderkick, and NeoGames to name but a few.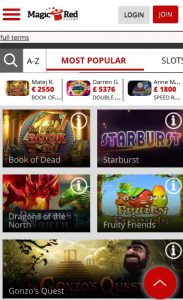 You'll quickly notice that the casino is very heavy on the mobile slots – with a wonderful assortment of beautifully animated, high-performing mobile games like Rich Wilde Book of the Dead, Reactoonz, Mighty Sphinx, and Fire Joker.
It also has a great list of classic fan favourites like Starburst, Jungle Jim and the Lost Sphinx, and Legacy of the Dead, as much as new titles that regularly show up, including 9 Pots of Gold, Octopus Treasure, and Jolly Roger 2 at the time of writing.
Some of the slots are more traditional fare, with a standard 3X5 setup and more simple bonus features like free spins set off by Wild symbols. Others have more intricate bonus rounds, for those who like the bells and whistles interactivity of such games.
There is also a nice selection of mobile table games including a range of mobile optimised video poker, roulette, and blackjack tables.
MagicRed Casino App Download

Just like there is no software to download to play at MagicRed from your computer, there is no casino app to download to play from your phone.
Instead you can access MagicRed mobile by visiting its website from your browser on your tablet or smartphone, whether you are using an Android, Apple, or even Windows device. To make your life even easier, we recommend adding the URL to your favourites list.
By the way, once you set up a MagicRed casino account, you can use the same login details on either your PC or mobile device.
MagicRed Mobile Casino for iOS
There is no iOS MagicRed Casino app to download.


Instead, as an online casino designed for instant play, that is direct from the MagicRed website, it has also been carefully crafted to work well with any browser. So if you're using an iOS device like an iPhone or iPad to access MagicRed, you should have no trouble at all, whichever browser you choose. Safari or otherwise.
Thanks to HTML5 programming, the full offering is automatically sized to your screen, without any annoying glitches or bugs. Just make sure, as we suggested above, to add it to your favourites if you want quicker access.
MagicRed Mobile Casino for Android
There is no Android MagicRed app available to download.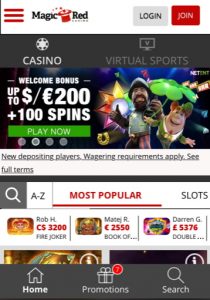 Again, like with the iOS operating system, MagicRed Mobile Casino is easily accessed from your Android smartphone or tablet. Just visit it from your browser like you would any other website, and you're good to go. All the MagicRed fun right there in the palm of your hand, whether you're looking for something to do in between commercial breaks, while riding the bus, or simply lying in bed.
MagicRed HTML5 Casino
MagicRed is an HTML5 casino. That means it is programmed in HTML5, which is currently the most up-to-date (read best) way to program websites. Especially if you want them to be compatible across different devices and browsers.
For our purposes, this means that MagicRed can be securely visited from any web browser that you are using on your cellphone or tablet like Safari if you're an Apple type, and Explorer, Chrome, or FireFox for those on Android or other operating systems.
Advantages of the MagicRed App for Android and iOS
Since there is no MagicRed Android app or MagicRed iOS app per se, we really can't say there are any advantages to them.
Again, all we can do is reiterate, with a high-performing mobile website, there is actually no need to specifically download an app.
Advantages of the MagicRed Mobile Casino
The MagicRed mobile casino offers an advantage over a potential casino app in that it is an easy way for the casino to effortlessly keep its entire offering up-to-date for you.

That means when new games or payment methods are added, they are made available across platforms so you know you are always getting the best MagicRed experience possible.
Plus, for some of you who may find your cell screen overloaded by icons, a mobile browser-based experience quite literally lightens your load.
The Expert Roundup on MagicRed Casino Mobile


As a whole, in the same way as we really like MagicRed Casino, we also really like the MagicRed mobile experience. After all, they are essentially one and the same. Everything that we appreciate about MagicRed – from its game selection to the ease of navigation and extensive bonus offerings – are all available to the same extent from its mobile site.
The only difference is that it all looks smaller. Other than that, the enjoyment is just as large. Actually even bigger for those who prefer the opportunity to safely and comfortably gamble on the go.
Last Update:
Article reviewed:
MagicRed App
Author Rating: