Lucky Days Customer Support & Service
It all looks happy and lovely, and you're having a good time. But we're willing to bet that at some point you will need help at an online casino. It might just be a quick question about a bonus or it might be one concerning cashout. Whatever it is, how easy it is to reach a customer service representative, and how competent that service is will ultimately colour your gaming experience.
How does Lucky Days perform in this area? Launched in 2019 in Sweden, many players may ask if this relatively new casino has support ready. In this review, we will talk about what players in Canada can expect in terms of customer support from Lucky Days Casino.
In brief, customer support at Lucky Days Casino largely revolves around live chat and email. There is no phone support in Canada or anywhere else in the world, but most players don't call in this day and age anyway.
The Help section is relatively brief. Overall, our team found that Lucky Days customer service is sufficient, but there are a couple of small things that can be improved. We have the details below.
How to get in touch with the Lucky Days support team?
---
Lucky Days Live Chat


When it comes to online casinos – or online anything for that matter, live chat tends to be the main channel of customer service. No exception for Lucky Days Casino here, and the chat is the main point of contact between players and the casino. It is however not 24/7, and our players at Casino.Guide who tested Lucky Days felt a bit miffed that the exact hours of operation were not stated on the site.
On the positive side, should you try to reach out to a Live Chat agent when none is available, your message will be automatically sent to the support team at Lucky Days who will get back to you once they are on. No waiting around needlessly.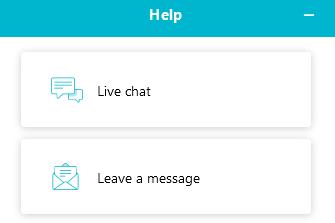 You'll also get a copy of your message sent to your email address so you have a record of it all. That's what happened to our testing player in Toronto who wanted to chat at midnight. A prompt response was received in the early morning when the support team came back to work in European business hours, where Lucky Days is based.
What about the service itself? Other testing players' experience found that it never took more than a minute to connect to a Lucky Days live chat agent during regular European working hours. The agents were courteous and helpful. Our players felt that the staff at Lucky Days were quick to help us find solutions to common issues that occur during cash out due to Canadian banking particularities.
Back to TOC
Lucky Days Email


The other Lucky Days Casino support channel is email. You can drop them a line at [email protected]. Response time was reasonable and most of the time we got an answer back within a few hours, when the time difference between Canada and Sweden, which is Lucky Days' home, is fortuitously aligned for business. Again, the help we received here was competent and efficiently delivered.
If you have a more complex question, especially concerning withdrawals, email is always a good place to start. That's because with emails, the entire problem is laid out in writing so that the support agent can understand everything before proceeding to answer.
Back to TOC
Lucky Days Help Section
The Help section at Lucky Days Casino is a bit on the thin side. It does cover the most basic questions, but there could be a bit more detail. It's not a super big deal though, because we know that most players can't be bothered to read FAQs that look like instruction manuals. Most prefer help through live chat anyway.
Back to TOC
Quality of Service at Lucky Days Casino

Our team of players at Casino.Guide found the support team at Lucky Days professional and helpful. Even likeable. However, due to the time difference in the working hours between Canada and Sweden, it is not always so convenient for Canadians to reach one of the Lucky Days reps.
The Expert Roundup on Lucky Days Customer Support
In general, Lucky Days Casino support is sufficient. Live chat and email function well, and it's clear that their highly responsive staff is well trained to help players.
However, the live chat hours are based on European hours and for Canadians this isn't always so convenient.
Last Update:
Article reviewed:
Lucky Days Support
Author Rating: