20Bet Mobile Casino Review
Being one of the new online casinos that launched in 2020, mobile has been in the design of 20Bet Casino right from the start. It's simply a must nowadays. Because even when we're not travelling, it's just so nice to be able to play wherever and whenever we want.
The clear advantage of 20Bet is that the casino did not have to think about upgrades or patches to make itself mobile ready. Using the standard HTML5 platform, 20Bet is a no download casino, whether on desktop or on your phone. That means there's no app to download, and you can rest assured that whatever you see on your phone or tablet is perfectly in sync with what you would see on your computer.
We sent our Casino.Guide players to the 20Bet Mobile Casino to check it out. They came back with a report on the site's technical performance, games and more to compile this 20Bet Mobile Casino review for you, so keep reading for the details!
Hits:Misses:
Fast loading site
Smooth navigation
No app to download
Quick withdrawals
No phone support
Does not accept Apple Pay
20Bet Mobile HTML5 Site Performance

The 20Bet Mobile site is quick. Our players who tested the site found it to load speedily, including on older devices that could have seen a bit more love. It only took a few brief seconds to load, and after that moving between the different sections was crisp and quick. Games too, played without a hitch.
20Bet Mobile Site Design
If you've played at any other mobile casino, you won't have any issues finding your way through 20Bet. The design is standard and intuitive. On landing, you'll see their special offers, and a games bar going across the screen from which you can see their most popular games, slots and so on. Up in the top left corner is the main menu, where you can switch between the casino, live casino and sportsbook. At the bottom of the menu is also the live chat and support information.
"Signing up for an account at 20Bet Mobile is a simple 3 step process. There's an orange button at the top of the screen that says "Sign up". Do note however that you have to state which bonus you want in the very first step. By default, it will give you their sports offer. To choose the casino welcome bonus, just tap on the Sports icon and it will bring up the options available." Vienne Garcia – Author and Casino Expert
Is there a 20Bet Casino iOS app or Android app?

The quick answer is no. There is no 20Bet app for either iOS or Android. It's fully HTML5 and browser based, and this is becoming the standard for mobile casinos. Some people do call it a web based app, but that's technically incorrect, because it's just a website designed to automatically adjust itself to your device and its operating system.
Be careful of any app you see in the App Store or Google Play claiming to be the 20Bet app because there are lots of fakes out there. If you want instant access to the casino instead of opening your browser and typing in the address, you can add a 20Bet shortcut on your home screen by:
On iOS:On Android:
Open Safari from your iPhone or iPad
Go to the 20Bet website
Tap on the "Share" icon on the bottom of the screen. It looks like a square with an arrow going out.
A list of options will appear. Tap on "Add to Home Screen"
You can give the shortcut a name. Then tap on "Add"
You will find 20Bet added to your Home Screen along with the other apps you have on your device.
Open Chrome from your phone or tablet
Go to the 20Bet website
Tap on the Menu icon. It looks like 3 dots in the top right of the screen
Tap on "Add to Homescreen" on the options that appear
You can add a name to the shortcut
20Bet will be added to your device's home screen.
20Bet Mobile Games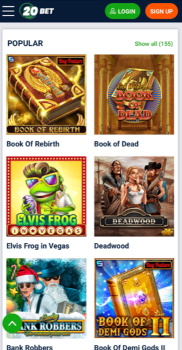 You'll get a comprehensive choice of 4,000 games from a variety of software providers at 20Bet Mobile Casino. Most of these are mobile slots, which counted over 3,400 titles when we wrote this review. The game categories include:
Popular
New Games
Bonus Buy
Slots
Jackpots
Live Casino
Other (scratchcards, video pokers)

Don't forget that there is also a sportsbook at 20Bet with a ton of different markets and live betting options!
Which Devices Can I Use to Play at 20Bet Mobile Casino?
20Bet Mobile works on all mobile devices and operating systems that have a web browser that supports HTML5. This means the casino works on:
iPhones, iPads
Android tablets and smartphones
Windows smartphones
Blackberry
All modern browsers such as Chrome, Safari, Firefox and Opera will support HTML5.
The Expert Roundup on 20Bet Casino Mobile

20Bet Casino is smooth on mobile. Its technical performance is flawless and with 4,000 titles, you will have a massive choice of mobile slots and other games to choose from. The sportsbook is also big plus. It doesn't take Apple Pay for deposits but there are plenty of payment methods you can use.
It's all browser based, which makes it especially convenient if you play on multiple devices as you won't have to download an app each time. You'll have everything you want at 20Bet mobile!
Last Update:
Article reviewed:
20Bet Casino App
Author Rating: