Taour Casino Streamer
Taour Profile
Streamer name:
Taour
Real name:
Noamane Boukhari
Avatar:
Country:
Belgium
Year of birth:
1997
Favourite Casino:
Stake Casino
Specialties:
Table games, League of Legends
Biggest Win:
50,727.60 at The Dog House Megaways
Biggest Multiplier:
x1920 at Fruit Party
Taour, or the casino streamer formerly known as Taourrr10300, has been making waves in the French streaming scene. A Belgian-born gamer with Moroccan roots now living in Malta, Taour is actually Noamane Boukhari. He's a relatively quiet and low key guy who clearly enjoys his games – casino or otherwise.
On Twitch, Taour describes himself as a French independent streamer. Other than slots and table games, this casino star is also famous for his e-sports and League of Legends streams.
Being the low key guy that he is, Taour sets modest goals that get updated every now and then. For example, the last goal he set was to surpass 100k followers on Twitch, and he already had well over 135k fans the last time we checked.

MoreLess
Taour Games
On the casino side of things, Taour plays a variety of games in his streams. While he does spin slots, he seems to be much more into table games than other streamers. There are plenty of live blackjack streams where he battles it out with the dealer. Poker tournaments are also on his menu.
Obviously, Noamane has some smarts, but that doesn't mean he doesn't enjoy games that don't require much strategy. Crazy Time, for example, is a frequent go-to. Other Taour games include slots like Perfect Gems from Play 'n Go. It's a high variance slot with 6 reels, 21,609 ways to win, and a massive win potential up to 5,000x your bet. This guy certainly knows how to gamble!
When not playing casino games, Taour is big on League of Legends and is pretty famous on the eSports scene. In addition to LoL, he also plays Rocket League and Fortnite.
Taour Streams: When and Where
Taour streams on Twitch regularly. When we checked, he didn't have a schedule on his profile but he's usually on Monday and Wednesday nights at 7pm. On Mondays, he does a second stream at midnight as well. The 7pm stream is a "Just Chatting" programme, but obviously there are also plenty of blackjack and other games involved beyond the chat.
Later towards midnight, there is a Bonus Hunt. These times are all European times though, and they roughly translate into the Canadian afternoon until early evening. If it doesn't work with your day, Taour does upload many recordings of his streams onto Youtube. You'll also find many more of his Fortnite and League of Legends videos on there.
Taour Casinos
Compared to other casino streamers, Taour is relatively selective about where he plays. He used to hang out at BitcoinCasino.io but recently switched over to Stake Casino, which is turning out to be the place to for hot casino streamers.

MoreLess
What's Special About Taour?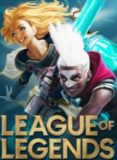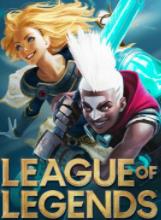 Other than being at brilliant table games, Taour was one of the top eAthletes. He was very active in eSports and is a well-known jungler on League of Legends too. His eSports career began in 2014 and he has been one of the most famous players on RSC Anderlecht Esports team. That's no small feat for someone who's still in his early twenties. However, he's been playing less and less of that and by the end of 2021, it seems he's really decided to focus on casino streams on Twitch and YouTube.
Taour comes from a culturally diverse background. Noamane's parents moved from Morocco to Belgium, where he was born. He then decided to move to France, and then to Malta where he now lives. He's a down to earth kind of guy, keeping a relatively low profile.
You see this in his casino streams too, where you see his quiet personality preferring to focus on the games at hand. The name Taour actually means "develop" and it just shows Noamane's modesty in striving to always improve himself.
Taourrr on Social Media
Being the quiet guy that he is, Taour doesn't talk much about his personal life on social media, whether as Taourrr1030, Taour1030, plain old Taour, or under his real name Noamane Boukhari. We know his name, his age, but nothing really about his family or relationship status. That doesn't mean he's not active on the social networks though, as he posts regularly about his interests - casino and eSports.
Taour on Twitch

Twitch is the home for all streamers, and here Noamane goes by Taour.   He has over 135k followers here, and it's largely a French speaking crowd. He used to go by Taourrr1030 here, but following a Twitch ban which affected many casino streamers, he decided to simplify his name.

Taour on Youtube
The Taour Youtube has a great collection of videos, ranging from his casino streams, to Fortnite and trolling League of Legends. He also has plenty of music videos from French musicians and rappers here. On Youtube, Taour has over 12.5k subscribers and the channel is managed by his little brother.
Taourrr1030 on Twitter
Taour has been on Twitter since 2015 with the name Taourrr1030 and has over 40,000 followers. There are lots of tweets about his Twitch casino streams here, including highlights like his insane 1 Bitcoin bet on roulette, or his crazy 6,500 Euros win on Crazy Time.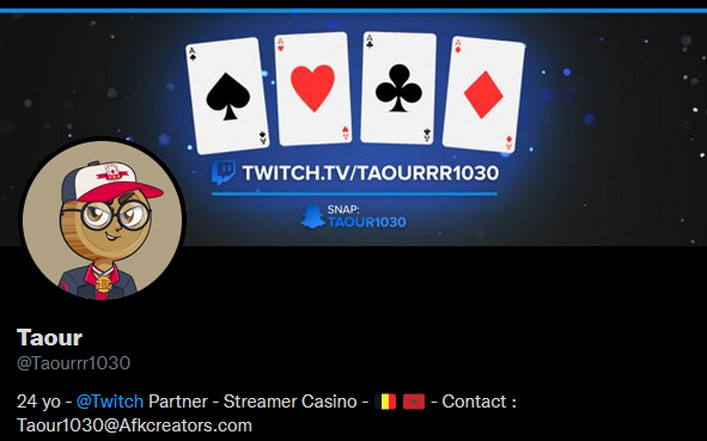 Taour E-Sport and Gambling

Taour, or Noamane Boukhari in real life, is certainly a smart guy. One of the top eSport players on League of Legends, Taour has also been flexing his muscles at casino games, taking on daring bets and walking out with impressive wins in live blackjack games and poker tournaments, while also just chilling out with game shows like Crazy Time.
Taour is a true tour de force. His streams and videos are mostly en français, but you can still get a good feel for his skills and the excitement of the games even if you failed high school French.