VoodooDreams Customer Support & Service
A name often says a lot about a casino. When we first came across VoodooDreams, we did indeed wonder. Is this a fly by night establishment that throws service to the wind? Or is it simply a name that incorporates a rather unique theme?
Well, by the very fact that we're here in the final stages of our review process, the answer is quite clear. This is a reputable online casino licensed and registered by the Malta Gaming Authority and the UK Gambling Commission, and as such has stringent safety, security, and service demands that it must abide by.
This can be felt throughout the VoodooDreams experience, and definitely extends to the realm of customer support which you can reach out to for help on any number of matters. These include questions about how to play a bonus, assistance in setting up the site's safe gambling tools, and inquiries about withdrawals.
| | |
| --- | --- |
| Email | [email protected] |
| Live Chat | Yes |
| Phone | No |
| Web form | No |
| FAQ page | No |
| Twitter | No |
| Facebook | Yes |
| Youtube | No |
| Instagram | Yes, but not very active |
How to Get in Touch with the VoodooDreams Casino Support Team
The main ways to reach VoodooDreams support are via live chat or email.
"Keep in mind, however, to always stay courteous. The site explicitly states that it will not tolerate rude or obscene comments either in chat with other players or when in contact with customer support personnel. While we certainly assume that you wouldn't be doing this – after all, we Canadians aren't known for that type of behaviour, we like the fact that VoodooDreams isn't embarrassed to address the matter." Vienne Garcia – Author and Casino Expert
---
1.)

VoodooDreams Live Chat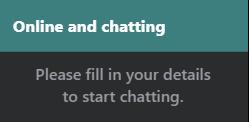 To access VoodooDreams live chat, log in to your casino account using your username and password. Next click on the 'Help' link. A window will then pop up, with your name and email address automatically filled in the right fields. Once you click 'Start chatting' you can initiate the conversation by typing in your inquiry.
If you don't start typing in right away, a live agent will begin chatting with you almost instantly. Seriously, this is not an exaggeration. We took a minute just to think of a good question to ask, and already were met with a chat 'How can I help you :)', smiley face and all.
So what does this say about the casino's live chat performance? Well from our experience, which we repeated a number of times starting chats at different hours of the day for a true impression, it is clear that the VoodooDreams chat service is prompt and friendly.
Once we got the conversation going, we also realised that the chat staff is also super professional.  When the customer service rep didn't know an answer, he or she didn't try to fudge it. Rather they went through the inquiry with us in due course until we got to the bottom of it, and sufficient answers were provided.
2.)

VoodooDreams Casino Email Support


The same level of friendly professional service was also provided when we sent emails to VoodooDreams support. However, there is one small thing to note. Buried in the site's terms and conditions, there is a clause that says the casino is only obligated to respond to email inquiries within 5 business days, which in today's fast-paced world is excessively long.
That being said, from our experience, this is not a policy you need to worry about, as no email we sent went unanswered for more than 24 hours. It was usually attended to far quicker than that.
As to why you might choose email over chat? It's a matter of personal preference really. Some people find live chat distracting and would prefer to write their issue out in full rather than the back and forth of a conversation. Again, both are great options and we'll leave that decision up to you when the need arises.
3.)

Reaching VoodooDreams Casino by Phone

Unfortunately, the magic of VoodooDreams casino support does not extend to the phone. That is, there is currently no phone support provided. We generally like to see that as an option, but in all fairness, it is becoming increasingly rare, so it's certainly not a red flag or even a bummer in any big way.
4.)

VoodooDreams Casino on Social Media

While social media is not the best way to go about getting support service from VoodooDreams, or any online casino for that matter, we have found many of our readers want to know about the casino's social media presence. After all, since we spend so much of our time on these sites, we might as well at least provide a little feedback there as well, right? Well, maybe.

Either way, we can tell you this. If you're looking for VoodooDreams on Twitter stop. It doesn't currently have an active Twitter account. The same goes for YouTube where it is nowhere to be found. VoodooDreams does, however, have an Instagram account, but there isn't much going on there, so we wouldn't really bother reaching out to them there either.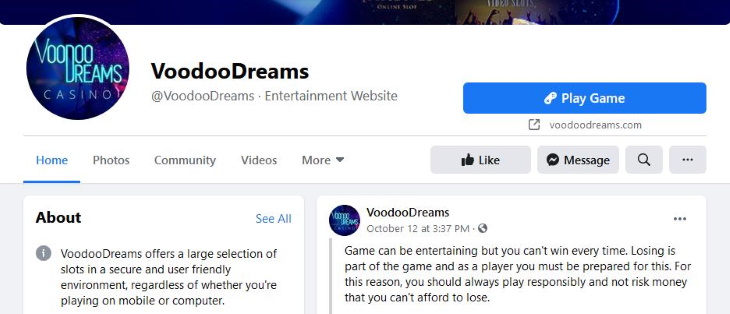 The only social media service, actually where we found VoodooDreams to be reasonably active is on Facebook, where it is updating its page on a regular basis with announcements of new games, gambling control tips, and more. So if you want, you can message them there.
Expert Opinion on VoodooDreams Customer Service


Bottom line, when it comes to VoodooDreams customer support and service we have found ourselves to be in reliable hands. Reliable is actually a key word in this realm. After all, we want to know that the support team is available, speaks our language, and gives us informed answers which actually resolve our inquiry.
All of these things are what the VoodooDreams support team did in our review process. The team provided us with solid service around the clock, in English, walking us through functions we were unfamiliar with, and giving us direct answers to any questions we had. This helped us better enjoy our gaming, more fully experience the VoodooDreams offering, and gain peace of mind that we were gambling at a reputable casino establishment.
Last Update:
Article reviewed:
VoodooDreams Support
Author Rating: