Woo Casino Customer Support & Service
Whether you are new to online gambling, or have been playing at online casinos for years, there comes a time when you just might need a little help. When you do, it is important to know who you can ask.
Sure, most problems these days can be solved with a quick internet search. But when you're gambling online with real cash, you likely want to know there's a real person you can reach out to. That is why casino customer support and the level of service it provides is so pertinent to our review process.
For Woocasino we have found that the customer support works great, and recommend you keep reading for all the details.
How to Get in Touch with the Woo Casino Support Team
---
1.)

Woo Casino Live Chat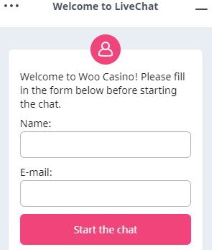 The main support channel at Woo Casino is live chat. That is, live chat is the one most strongly advertised and most easily accessed.
If you are playing on a computer, look to the right hand bottom corner, and you will see a small chat icon/bubble. Click that to open up the chat window and begin getting service.
If you are playing from your cell phone, you will see the same functionality labelled as a 'Help' button at the bottom of your screen.
After you open the chat window, your name and email will appear. This is so the service agent knows who he or she is speaking with, and how to get in touch with you if the conversation should be cut off for any reason.
Then, once you click 'Start the chat' you will see clearly written onscreen your place in the queue, so you have an idea of how long the wait will be. Usually it is very short, like one or two people and a matter of no more than a minute or two.
Once a service agent answers, you will see the person's name in the window as well, which is a great touch to humanise the experience. You'll be prompted to describe your inquiry, and then the chat takes place as expected with answers given in a timely, professional manner.
Back to TOC
2.)

Woo Casino Casino Email Support


The other option for reaching Woocasino support is by email. The email address, admittedly, is a little buried in the site and we did have to search for it, but that is not an indicator of performance.
Once you send an email, you are in safe hands. The support team really does read each email and gets back to you in a timely manner, with a response to the actual question you asked, rather than sending a form answer that vaguely touches on your concern.
While we chose chat for most of our support questions, and think live chat is the best way to address an immediate issue that comes up, we definitely like having the option for email as well. Sometimes it is simply more succinct to type up a question in full, and then get a response in one go rather than the back and forth of chat. The preference, however, is entirely up to you.
Back to TOC
3.)

Reaching Woocasino by Phone

Woo Casino, as far as we were able to find, does not currently offer phone support. The reality is that it has become increasingly difficult to find an online casino that does offer phone support, as this communication channel seems to be becoming a thing of the past.

Back to TOC
4.)

FAQ page


Another thing that Woo Casino does really well on the service front is its FAQ section. Here you can find details on the most frequently asked questions, with comprehensive, yet succinct responses, that will definitely help you out.
Divided under different categories like 'Account', 'Bonuses', and 'Security', the FAQ page is a great place to start your Woo Casino experience armed with the knowledge that can make a big difference in getting the most out of your play.
Back to TOC
5.)

Woo Casino on Social Media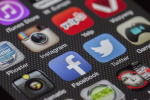 Although some online casinos have a strong social media presence, Woocasino is not one of them. In fact, at last check the brand was not running an active account on Twitter, Instagram, Facebook, YouTube, or even TikTok.
Social media, of course, is never the primary support channel that an online casino offers. But it is often a nice supplement, giving you another way to get in touch, or at least stay updated on what is going on at the casino.
That being said, we have noticed a trend here as well, in casinos investing less and less efforts in maintaining their social media accounts. So perhaps this manner of communication, between players and the casino, never really took off. We certainly don't judge a casino for that.
Back to TOC
Expert Opinion on Woo Casino Customer Support and Service


A reputable online casino, registered with a Curacao Gaming License, Woo Casino not only offers great games and bonuses, but also a high level of service to back it up. This means what you would expect from such an establishment, and particularly as a Canadian player – and that is friendly, round the clock support.
Good manners are appreciated and timeliness is key, but we also want actual answers, rather than being given the runaround. To this end, Woo Casino also comes through, with support agents who have clearly been trained in the casino's full offering, taking chats and answering emails.
This helped enhance our overall feeling of safety and security, ensuring us that we are in good hands. For us, that human touch made a huge difference, and confirmed Woocasino's high ranking in our review of its customer service.
Last Update:
Article reviewed:
Woo Casino Support
Author Rating: