Woo Casino Bonus 2022
---
Bonus May: Deposit Bonus package
Bonus Rate: 100%
Max. Bonus Amount: $300 plus 200 free spins
---
Do you like casino bonuses? If you're like most online casino players in Canada, we're guessing the answer is a resounding yes.
That's why, when it comes to reviewing an online casino, evaluating its bonus offers is an absolutely crucial element in assessing the overall experience.
As such, the Casino.Guide team got to work and systematically went over each of the bonus offers at Woo Casino to give you a clear understanding of how the welcome bonus is structured, how it compares to other online casinos in terms of size and wagering requirements, and if the bonuses here have the wooing factor that helps tip us in favour of recommending this casino.
Woo Casino Welcome Bonus

The first bonus you will encounter at any online casino is the welcome bonus. Sometimes it comes as a single bonus on your first deposit, while other times, like at Woo Casino, it comes in the form of a package dispersed over the course of more than one deposit.
More specifically, the full welcome bonus at Woo Casino is spread over two deposits for a total of up to $300 and 200 free spins. It works like this.
First deposit bonus:Second deposit bonus:
When you make your first deposit at Woo Casino, you are automatically eligible for the first part of the welcome bonus. That is, 100% up to $150 plus 150 free spins. Just make sure to enter the bonus code 'WOO' in the bonus code field in the cashier in order to claim it, otherwise the system will assume you don't want it.
Once you have made your first deposit of at least $25, you will instantly receive the bonus money up to $150. Exactly how much bonus money you get depends on how much you deposited, and 25 free spins to play on the Wolf Gold slots game. You will then get another 25 free spins on the Wolf Gold game each day for the next 5 days.
The welcome package then continues through your second deposit. Again it needs to be a minimum deposit of $25, and you need to make it with the bonus code 'WOLF'. You will then be awarded with a 50% bonus up to $150 plus 50 free spins on the Avalon: The Lost Kingdom game. In this case, both the bonus money and all of the free spins will be issued to you immediately.
Breaking Down the Casino Bonus Terms
Every bonus you'll find comes with terms and conditions. Such is the nature of the beast. The question is then how complicated and fair they are, in order to understand if you're getting a good deal.
Overall, the Woo Casino bonus terms are well within the realm of the norm. That is, certainly standard stuff that you would encounter at other online casinos.

MoreLess
For example, the welcome bonus and all other deposit bonuses at Woocasino, unless otherwise specified, have a wagering requirement of 40X. This is exactly the same as you'll find at many other top online casinos. True, you can occasionally find 35X or 30X, but those cases are rare. So good grades on that end.
Similarly, winnings from free spins are also subject to a 40X wagering requirement.
As for game contribution, or the playthrough rate for which different games contribute to clearing your bonus, generally speaking
Slots (with a few noted exceptions) contribute at a rate of 100%
Roulette, poker, video poker, baccarat, and blackjack for their part contribute at a rate of 5%
The slots are right where we'd expect them at 100%, though admittedly some of the other games are a bit on the low end, making it harder to fulfill your requirements gambling on table games.
Also something minor to note, the maximum bet you can make with an active bonus is $6.5 per spin. So this is something you should keep in mind as you work to clear your bonus.


And by the way, just to point out, while Woo Casino prides itself on accepting cryptocurrencies, you cannot claim bonuses on cryptocurrency deposits. Canadian dollars, however, work perfectly well, so they make for a good option any time.
Other Bonuses at Woocasino
While the wooing at Woo Casino begins with the welcome bonus, it certainly doesn't end there. In fact, one of the things that made a favourable impression amongst the Casino.Guide team is that there is always something extra (read interesting) going on at Woocasino.

For example, if you're a weekend player, you'll be pleased to know that you can collect a reload bonus every weekend – the weekend being Saturdays and Sundays of course. This bonus is for 50% up to $150 plus 60 free spins on Dead or Alive slots. Again, you'll need to use a bonus code here, as all bonuses at the casino are opt in events. So keep this in mind.
There is also something really cool here called the Regular Lottery. Basically, each time you make a deposit for $15 or more, you are awarded a lottery ticket. A lottery then takes place every 5 days, and 3000 free spins are dispersed amongst the winners.
Other than that, the promotions advertised onsite are subject to change. Things you might find include something called Drops & Wins, where you get extra daily cash prizes attached onto select Pragmatic Play games.

Also, if all that wasn't enough, there are the many tournaments for which Woo Casino is probably best known. If you've yet to encounter them, we recommend giving them a try. Basically, they're leaderboard races that give you an extra chance to gain some winnings while you play slots or your favourite live casino games.
Woo Casino Loyalty Program
In addition to all those bonuses, Woo Casino also has a great VIP club. It's called Woo Missions and it's got a space theme. Why? We're not entirely sure, but it works well, so why not.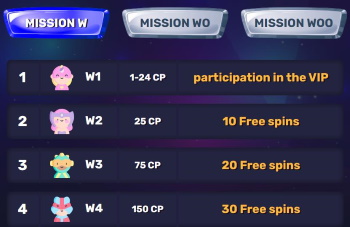 How it works is simple. As soon as you make your first deposit, you automatically become a member of the Woo Missions club. As you play, you essentially complete missions, and are rewarded with club points, which can be exchanged for free spins and bonus cash.
There are 3 levels to literally complete in this tiered system as you move from Mission W, to Mission Wo, and finally to the Mission Woo tier (see how the name was completed?). Each of these levels, of course, give you access to better prizes in return for your points.
The Expert Roundup on Woo Casino Bonuses
After carefully reviewing the full Woocasino bonus offering, we have formed an informed opinion and can safely say, we like what we saw. Or more accurately, what we experienced.
While some people don't like having to type in a bonus code, and prefer the automatic claim, we actually don't mind. It helps to specify which offer you want when there are multiple offers on the table.

As for what types of bonuses you can get, we really like how the main bonuses – that is the welcome bonus and weekend reload bonus – come with both bonus cash and free spins built-in. This setup gives players the best of both worlds, really.
Plus, all those tournaments and races make game play more interesting, and give you extra ways to pad your account, which is also an impressive twist. And the wagering requirements are reasonable across the board, so that's another win for Woo Casino on that.
All in all, we'd say Woocasino has a great bonus offering, making your time both more engaging and potentially lucrative.
Last Update:
Article reviewed:
Woo Casino Bonus
Author Rating: