Woo Casino Mobile App
 If you're anything like the members of the Casino.Guide team, you're probably glued to your mobile phone. And it's not just texting, tweeting or scanning the news that you're doing there. Rather, we're guessing, as an online casino fan, you spend a fair bit of time mobile gambling as well.
We totally get you! Mobile gaming is definitely fun, and you just can't beat the convenience in all honesty. Plus, now that so many casinos work perfectly on your cell phone, there is absolutely no reason not to engage in a couple of rounds on the go.
But of course, even though mobile is so prevalent, it is still always a question how your casino of choice will measure up on mobile. That's why we have done a thorough review of Woo Casino mobile and how it performs for us Canadian players.
On one foot, we'll say, it's great. But keep reading so you get a full picture of what to expect.
Woo Casino Casino App: Advantages and Disadvantages
Hits:Misses:
100% compatible with all iOS and Android smartphones and tablets
Terrific interface, very user-friendly
Live casino is available on mobile
Big selection of mobile roulette and mobile blackjack games
There is no mobile casino app available for download
Woo Casino Mobile Games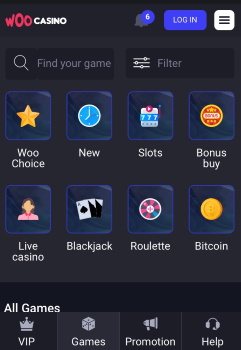 When it comes to mobile play and our assessment of a casino's performance, the casino games are undoubtedly the central consideration that we take into account. After all, what's a casino without its games?
If you've read our overall review of Woo Casino or the review of its games, you already know that we really like what the brand has to offer. The good news is, we were equally pleased by what we encountered at Woo Casino mobile. Because if you are paying close attention when logging in from different devices, the games are actually the same.
This means you can access the full Woo Casino game catalogue on the go and enjoy exceptional gambling at your absolute convenience.
Categories that particularly stand out in terms of mobile play are definitely the table games, which are actually the central focus of Woocasino. There are literally dozens upon dozens of options for mobile roulette and mobile blackjack games. They all look and work great on your small screen. These include all of the live roulette and live blackjack games as well, which are streamed in excellent quality to your phone.
Needless to say, there are also plenty of mobile slots options available as well. In fact, many hundreds if you count. They all work really well with great graphics and sound effects on your mobile device.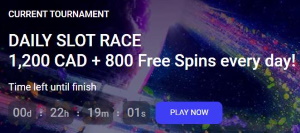 You can also participate in the Daily Slot Race, Live Race, or table game tournaments from your mobile. In fact, so long as you're logged in, your points will be added from whichever method you play.
Also, just like on the Woo Casino website, when you log into mobile you can see the scrolling Latest Winners list, which is always good for a little inspiration.
Woo Casino App Download
Answering the casino app question for mobile is a little tricky here. That's because if you look on the Woo Casino website from your computer, you will actually see a link that prompts you to install the app. The thing is, this is an old-fashioned casino software download and not what you're probably thinking of, i.e. a mobile casino app.
So if you want to download the app to your desktop, go for it. Just realise that this is not a mobile app, and in fact, no Woocasino mobile app actually exists. That is, if you want to play at the mobile casino, just visit the website from your mobile browser. Easy as that.
Woo Casino Mobile for iOS


As we just mentioned, there is no mobile app, which means no Woocasino iOS app for your iPhone or iPad, so don't bother searching the App Store for that.
Instead, when you want to log in from your iPad or iPhone, simply open the Woo Casino website from Safari or your preferred browser and log in from there. The full casino experience will then be available at your fingertips, in all its glory.
Woo Casino Mobile for Android

Again, there's no need to search Google Play or the website in search of a Woo casino app. Woocasino for Android is simply a matter of logging into the casino website from your Android device – that is whether you are using an Android smartphone or tablet.
Once you do, you'll see the lovely interface, with all then casino functionality shrunken down to the size of your screen, and you're good to go.
Woocasino HTML5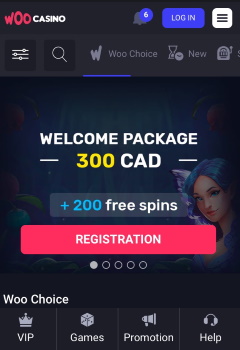 In today's world, an HTML5 casino is basically just a fancy way of saying a mobile optimised casino website. Or more accurately, a casino website that is programmed to work on all browsers and screen sizes, which includes mobile devices. This is what Woo Casino essentially is.
That means, if you visit the company's website on your desktop and then on your mobile phone, you will see that you are able to enjoy all of the same games, and all of the same functionality from full banking transactions, through bonus collection, and even participate in all of the tournaments.
Some even prefer how the mobile interface looks, as it is somehow even simpler once it is shrunk down. For example, we found it easier to find the help button there.
In terms of performance, the mobile website works really quickly, which is super important when playing mobile games. As long as you have a good internet connection, Woocasino mobile play is absolute smooth sailing.
Advantages of the Woo Casino App for Android and iOS
Currently there is no casino app to download on Android or iOS devices, though some of us would be happy to see such a thing. The reality is, however, most online casinos for the moment have moved away from this concept and prefer to offer a unified experience in the form of a mobile optimised website.
In theory, a downloadable app's main advantage would be the added layer of convenience of having a Woo Csino icon on your screen. Like how you might have other lifestyle apps installed on your phone whether they're for social media or general entertainment.
Advantages of the Woo Casino Mobile

Leaving the question of "to app or not to app" aside, offering a mobile casino is essential in today's market. It allows you to enjoy gambling on the go, from a device you always have with you, and has become something that Canadian players have simply come to expect. In fact, we don't think we would recommend a casino that doesn't offer mobile play. It is just that fundamental these days.
As such, while the Woo Casino mobile casino is excellent, we wouldn't expect anything less. Though we really are happy to say that it works so well and looks so good.
The Expert Roundup on Woo Casino Mobile
Now that we've taken a deeper look at the Woo Casino mobile site we can make our expert conclusion.

This time we have to say that each individual factor in the mobile experience – from banking to games and even tournament play – is easy and intuitive. We tried the casino out on various Apple devices and then switched to Android to make sure it worked equally well there, and the verdict is yes.
The casino site is compatible with pretty much any machine, that is desktop or mobile device on any browser, so long as you have an internet connection. This makes it highly convenient and adds to the sum of its parts, or put more simply, our overall positive impression of the Woo Casino offering.
Last Update:
Article reviewed:
Woo Casino App
Author Rating: