William Hill Customer Support & Service
In an ideal world, your casino experience would be smooth sailing from start to finish. But no matter how well designed a casino site is, or how clearly it outlines the details of a promotion, sometimes a question comes up. And when it does, you want someone to answer, and answer now!
A veteran in the industry, William Hill Casino knows what good customer support is about. And it doesn't distinguish between where you live. So although it is essentially a UK-based enterprise, it has dedicated itself to creating a seamless UX for players the world over, including here in Canada, where the time difference between the two countries certainly isn't felt.
How this is done is simple. Hiring enough staff. If you reach out to William Hill Support any hour of the day, you can expect a prompt reply. This is especially true if you opt for chat, which of course by its nature, is about as close to instant as you'll get.
Continue reading
Less
| | |
| --- | --- |
| Email | [email protected] |
| Live Chat | 24/7 365 days a year |
| Phone | NA |
| Webform | From the 'Contact Us' link |
| Twitter | @willhillcasino |

Note: While it is sometimes tempting to want to chat with an agent to get an immediate answer, we highly recommend having a really serious browse through the site's 'Help & Support' section. From this link you can give feedback through rating any part of the casino, and access the full support options. But most importantly you can find detailed answers here to just about any question you might have from setting up an account, to deposit limits, withdrawal options, and more.
How to Get in Touch with the William Hill Support Team
---
Live Chat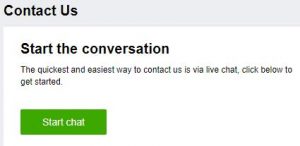 The best way to get in touch with William Hill Casino support is by far through the live chat function. You can click to open it direct from the site, and a pop up window will appear on your screen.
While this function is called live chat, it is however important to point out that it is not always instant. You may have to wait a few minutes before a service agent gets to your chat. So don't get too frustrated. There are humans behind there.
While you are waiting for a live agent to free up and get to you, you can also fill in the short form to help them out. This way they are able to come into the conversation better prepared for answering your inquiry. Once the agent appears, you will find that they are friendly, polite, and knowledgeable. And in our experiences in testing them, they were always able to help us resolve whatever question was pending or problem needed fixing.
This level of accessibility and professionalism is what makes us love William Hill chat support. But perhaps most importantly, live chat is available 24/7 so you can get pretty quick help any hour of the day.
Continue reading
Less
Back to TOC
Email Support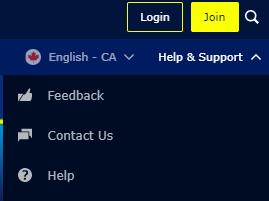 If you don't feel like waiting for a service agent to free up, or you are just not in the mood to chat, email is definitely the next best option. Some even prefer this as their go-to, especially if you have a somewhat complicated question. That way you can write out all the details in one go, press send, and rest assured you will get an equally detailed and thoughtful response.
Keep in mind that while William Hill Casino technically runs 24/7 email support, it can certainly take a few hours to get the response you're looking for, so don't expect it to be instant. It will, however, come
Continue reading
Less
Back to TOC
Reaching William Hill Casino by Phone

In the past, phone support was available, but at the moment it no longer is. Whether this is temporary or not is anyone's guess. The truth is, times have changed since online casinos first came around. And we find ourselves using the phone as a way to reach support less and less relevant.
True, once in a while you really want to speak with someone, (often when you have a little anger that you want to get off your chest), but we haven't found that we miss it much.
Back to TOC
William Hill Casino on Social Media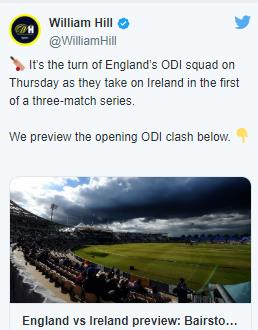 William Hill Casino does not have an active Facebook account at the moment. It does have a Twitter account, but it seems to have been last updated back in 2013!  And there is a William Hill YouTube channel, but it is only about sports.
So in other words, while William Hill technically has a social media presence, we wouldn't rely on it as a way to communicate with the brand.
Back to TOC
Expert Opinion on William Hill Customer Support & Service

William Hill Casino is exceptionally dedicated to delivering a superior customer experience. It does so in part because this is the way of the brand. But also because it needs to have a certain level of support in place as part of its licensing by the UK Gambling Commission.
For us in Canada, these combined reasons work well, as we also enjoy the orderliness of it all, and the above board, confidence building feeling that excellent customer service gives.
Last Update:
Article reviewed:
William Hill Support
Author Rating: