Wildz Customer Support & Service
At Casino.guide, there are a couple of things we always check out when we're in the process of reviewing a casino. The games, welcome bonus, and payment methods are particularly obvious ones. But for us, customer support is no less important.
In fact, we'd even say that customer support goes hand-in-hand with all of the rest, because in order to be able to enjoy ourselves we need to be able to feel secure. And this is done by ensuring us that the online casino is backed by actual people.
As such, once we discovered all the things we really like about Wildz Casino, we immediately systematically began working our way through its customer service offering.
---

We wanted to see what forms of assistance were available, how speedily assistance arrived, and how thorough agents were in their response - particularly for us Canadian players who aren't located on the same continent in which Wildz Casino operations are based.
The bottom line is we felt like we were in good hands, particularly with the email and chat functionality.
---
Continue reading
Less
| | |
| --- | --- |
| Email | [email protected] |
| Live Chat | 24/7 |
| Phone | na |
| Webform | na |
| Twitter | @wildzcasino |
| Facebook | Wildz |
| Youtube | Wildz |


Tip: The Wildz Casino website has a really good FAQ section. It is a great place to start if you have a question on setting up an account, bonus terms, deposits and withdrawals, and even setting limits for responsible gaming. We definitely recommend checking it out even before you need it, as it's a great resource for navigating the whole Wildz Casino experience.
How to Get in Touch with the Wildz Casino Support Team
---
Wildz Casino Live Chat
The most effective way to get in touch with the Wildz Casino support team is through the live chat function. It is available 24/7 direct from the casino's website and is recommended as the primary support system both by the casino itself, and us.

While it is not 100% instant - you may have to wait a couple of minutes for an agent to get on the chat - it is certainly close enough. And it is the ideal conduit for asking questions, getting general advice, and even giving the casino feedback, such as if you'd like to see more of a certain type of bonus offers.
In general, we found the agents working the Wildz Casino live chat platform attentive, detail oriented, and dedicated to helping us work through our problems. For example, when we asked about making a deposit, the agent stayed with us and patiently walked us through the steps.
Continue reading
Less
Back to TOC
Wildz Casino Email Support
The other form of support offered by Wildz Casino is email support. While we were satisfied with the live chat for most of our inquiries, we definitely saw the advantage in turning to email at times.
For example, if you have a long or complicated question that may require some research, it is generally better to send it as an email and wait for the response. And since the email support service is 24/7, you don't have to worry that it will take too long.

Tip: We've found that writing a clear subject line like "Need help with cashing out my bonus" is a great way to improve the email support effectiveness, and actually helps you better keep track of your inquiries.
Continue reading
Less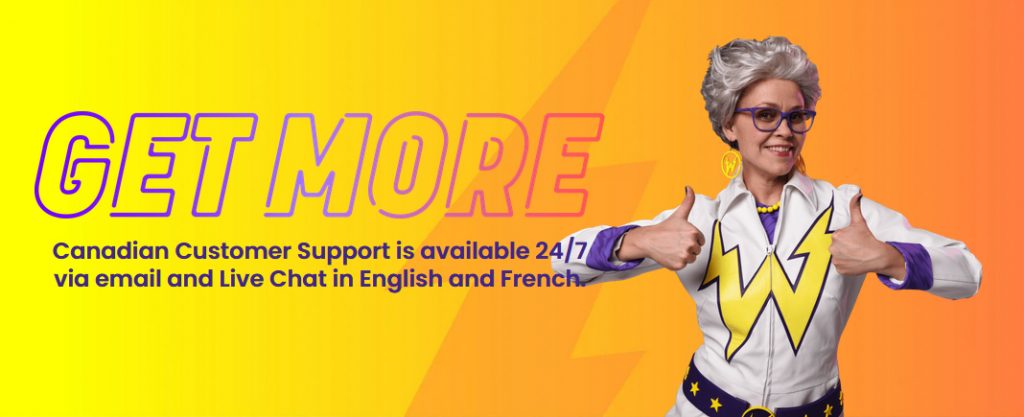 MoreLess
Back to TOC
Reaching Wildz Casino by Phone

Put simply, Wildz Casino cannot be reached by phone. Not by Canadian players, and not by players anywhere else. That is because the casino has opted, by design, not to include phone support.
If this casino review was written even five years ago, we may have marked this as a red flag. But this is no longer the case. More and more it is becoming common practice to limit casino support to chat and email. Such is the way of the times in which people prefer to communicate through their keyboard, rather than audio conversation.
Back to TOC
Wildz Casino on Social Media
While Wildz Casino does have a presence on all of the major social media channels including Facebook, YouTube, Instagram and Twitter, these accounts have not been updated in ages.
As such, we would not recommend using social media as a way to interact with the brand, and certainly not for resolving any inquiries you might have.
Back to TOC
Expert Opinion on Wildz Casino Customer Support & Service
When it comes to customer support and service, Wildz Casino gets an excellent grade. Sure there is no phone support or any real social media presence. But neither of those two mediums are things we need for access to our answers. Chat and email, as we have found, more than suffice. And the level of professionalism and prompt attention to details gave us the feeling of security that we sought.
Last Update:
Article reviewed:
Wildz Support
Author Rating: