VoodooDreams Mobile Casino App
If you are looking to join an online casino, you no doubt want to make sure it supports mobile play. After all, Canadians, like casino players around the world, are increasingly playing from their cell phones and tablets these days. And why not? It's probably the most convenient way to gamble. Instant, easy access from anywhere at any time. Can't beat that!
As such, if you're joining VoodooDreams we're guessing you also want to know what its mobile experience is like. For example, do you need to download an app or is in-browser play the only way?
Does VoodooDreams work well on Android and iOS? Are there enough mobile games to play? And are there any little secrets you should know?
Even though we can already say you are in good hands when you choose VoodooDreams mobile, keep reading for all the answers.
VoodooDreams Casino App: Advantages and Disadvantages
Hits:Misses:
Fully compatible with all iOS and Android smartphones and tablets
Excellent selection of mobile slots - including jackpot games
Live casino is available on mobile
All promotions can be claimed, and loyalty awards earned in mobile play
There is no casino app available for download
VoodooDreams Mobile Casino Games
VoodooDreams actually bills itself as a cutting-edge mobile casino, and that is in no small part a reflection of its age. Having been established in 2016, it was already ahead of the mobile gaming curve, programming with the mobile experience in mind from the get-go.
As such, when it comes to accessing the casino from your cellphone or tablet, you can rest assured that you will have the full VoodooDreams game catalogue available on the go.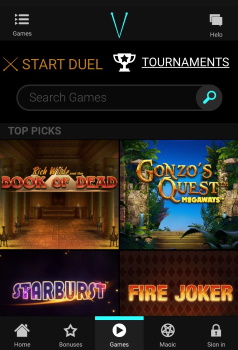 That means you can enjoy the rich assortment of games from the many incredible software developers that power VoodooDreams. If you are familiar with the world of online gaming, these include top titles from NetEnt, Quickspin, Play'n GO, Yggdrasil, Microgaming, Pragmatic Play, Red Tiger, and more.
Similarly, you will find a great selection for all the game types. Mobile slots, needless to say, take centre stage with hundreds of different options available.  You can choose from mobile Wild West Gold, Pyramid King, Irish Coins, Reactoonz 2, Combat Masters, A Pirate Quest, or any number of equalling intriguing themes.
The live casino is also available on mobile in its entirety, which we were pleased to see.  This means you can play live roulette, live blackjack and live baccarat, direct from your mobile phone for the ultimate in Vegas style play at your utter convenience.
Of course if you like table and card games, there are mobile versions available as well. While games like mobile roulette can sometimes be a hit or miss due to the graphical details required, the programming at VoodooDreams shrinks the action down just right, so you can actually follow what's going on.
VoodooDreams Casino App Download
If you would like to download the VoodooDreams casino app, you are out of luck. We mean that jokingly, of course. There is simply no such app available, nor is there any other form of download involved in accessing VoodooDreams on your mobile device. It is simply accessed by going to the website from your cell phone or tablet browser.
VoodooDreams Mobile Casino for iOS


VoodooDreams is 100% compatible with the iOS operating system. That means, if you would like to play at VoodooDreams from your Apple device, whether it's your iPhone or iPad you're thinking of, you absolutely can.
Since the casino doesn't have an app, this will not be done by downloading an app from the App Store. Instead you just visit VoodooDreams website from your browser, log in from there, and you're good to go. The full mobile experience will be iOS optimised and completely available at your fingertips.
VoodooDreams Mobile Casino for Android

Just like there is no VoodooDreams app for iOS, there is no VoodooDreams Android app available from Google Play. Instead, you simply log in from the browser on your smartphone or tablet, of whichever brand you are using.
The whole online casino is then instantly transformed, shrunken down in size with a slight layout shift to fit your screen.
VoodooDreams HTML5 Casino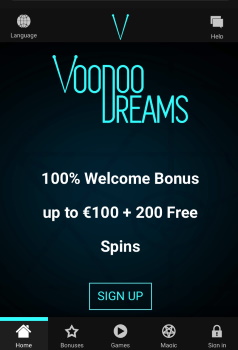 When we refer to VoodooDreams mobile, what we are referring to is an online casino with HTML5 programming. Many advantages to this type of programming are on the development side and not really relevant to you as a player.
The ones that do affect you as a player are that HTML5 inherently supports rich media to play audio and video, which also means games, and allows for faster loading times. All of which we all appreciate.
It also allows for automatic scaling, which means the VoodooDreams website is automatically scaled to fit the screen you are using - which clearly has a huge impact on how you view the games.
As such, by having an HTML5 website, VoodooDreams is able to offer you the same casino experience on any device you choose. This includes the games, the banking, the bonus offers, and even customer support. That makes a huge difference for players. You've signed up for a particular offering, and HTML 5 transfers it all seamlessly.
Advantages VoodooDreams App Advantages VoodooDreams Mobile Casino
When you consider your mobile activity, you probably spend a fair bit of time on apps like Facebook, YouTube, or Instagram. So it may seem weird that there's no VoodooDreams app to enjoy, especially if you're looking to make VoodooDreams a regular part of your entertainment regime.
While we understand the advantages of an Android or iOS app, the reality is that very few casino sites these days offer a download app. We won't fault VoodooDreams for not having one.
The advantages of a mobile casino per se are well known, and that's probably why you are reading this casino review in the first place.

Mobile play gives you access to the full casino experience on the go. If online casinos were a revolution to the Vegas experience, mobile has been that to online. It's a significant leap in accessibility and the type of convenience once allocated to the realm of dreams.
Not only do you no longer have to book a trip out of town to get a full casino experience, you don't even have to go to the other room to grab your laptop or turn on your computer. These days, we're pretty much attached to our phones, so any time you want to gamble, you're just a tap away.
The Expert Roundup on VoodooDreams Mobile Casino
Following a close review of the VoodooDreams mobile casino experience, we have to say we like what we saw. "Saw" is the imperative word, since the small screen is what can cause problems if an online casino isn't using the right games and development tools.

VoodooDreams works with top-tier game providers, so most of its games are already mobile optimised. HTML5 programming makes the selection appear in proper detail on your screen, just smaller. In addition, all the functionality you need is neatly available -  from the cashier services with all its payment methods, access to the loyalty rewards system with all the goodies and offers, and of course customer support.
Although there is no casino app to download, we don't see that as a lack. Glitch-free mobile gaming at a mobile optimised site is good enough for us. Certainly that's the direction the gaming market has been taking these past few years.
In other words, VoodooDreams is definitely on top of its game when it comes to mobile play, and it definitely ranks well in our books.
Last Update:
Article reviewed:
VoodoDreams App
Author Rating: