MagicRed Casino Bonus
---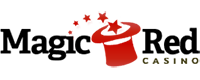 Bonus January: Deposit Bonus package
Bonus Rate: 100%
Max. Bonus Amount: up to $200 + 100 Free Spins
---
An integral part of every online casino experience is undoubtedly its casino bonus offering.
Each online casino, of course, has its own formula in how it doles them out. Which is why it's exceptionally important to get a better grasp of the full bonus picture before you set out. While a small minority of players prefer not to claim them, most of us like the extra opportunities bonus money and free spins afford us to play.
So what does MagicRed have up its virtual sleeve in the bonus realm? And is it generous in its conditions to claim them? Keep reading to discover what type of goodies Canadian players can get when they join the MagicRed ranks.
Hint: There are quite a few!
MagicRed Casino Welcome Bonus
When an online casino rolls out the red carpet it does so in the form of a welcome bonus. Not only is it the temptation offered to get you to make your first deposit, but it's also the casino's way of showing you its gratitude for becoming a depositing member.
At MagicRed, the welcome bonus is advertised on the casino's website as a single bonus comprised of a 100% match bonus of up to $200 + 100 free spins. The reality, however, is a tad bit more complicated than that.
Bonus Cash:

So let's start with the good news. The cash part of the bonus, that is the 100% up to $200, is instantly granted on your first deposit based on the amount you deposit. So you can go with as little as a $20 deposit and end up with $40 in funds to gamble, or as much as a $200 deposit and pad your account with a total of $400 in funds.
You, of course, can also choose any other amount in between. The point is, this part of the bonus is nice and clear. A single deposit is matched in full. Plus, it is available to you for wagering purposes for a full 21 days - which is much longer than most other online casinos which typically limit welcome bonus spending to your first 7 days at the casino.

And by the way, the welcome bonus cash is of course fully available to Canadian players in Canadian dollars. Just make sure to check $C when setting up your casino account to ensure your gambling is set to your local currency.
Bonus free spins:
The welcome bonus free spins, on the other hand, get a little trickier. That's because when you read the fine print, it turns out that you only get 20 free spins on your first deposit. You then need to make a second deposit (again a minimum of $20) the very next day in order to get another 40 free spins, and a third such deposit the day after that for the remaining 40 free spins.
All of which is something we truthfully like a little less. Though it's certainly not the end of the world if you're planning on sticking around - which you have every other reason to do.
Breaking Down the MagicRed Casino Bonus Terms
In terms of wagering requirements, the welcome bonus has a 35X wagering requirement before you can cash out any associated winnings, like with almost all other MagicRed cash bonuses. As a 40X wagering requirement has increasingly become an online casino norm, 35X is considered quite good. So we welcome that. And as we mentioned, you have 21 days in which to use up your welcome bonus funds, which is a long time by online casino standards.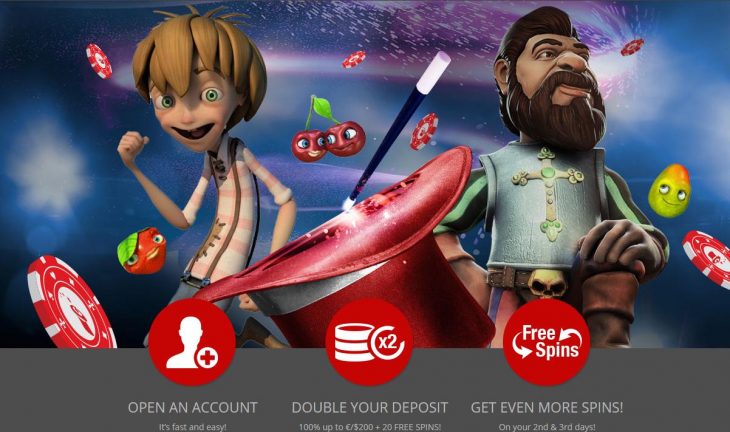 The free spin bonus terms are a bit more stringent. For starters, you only have one day to play them, so make sure you do. Also, the wagering requirement for any wins associated with the spins is 50X, like with most other MagicRed free spin offers. 50x gets to the steeper side of things.
Different games, of course, contribute differently to the wagering requirements and your playthrough. For example, roulette and baccarat games don't count at all, while NetEnt games specifically, count at a rate of 50%. It's a bit complicated perhaps, but again, all within reasonable norms.
Other Bonuses at MagicRed Casino
One thing we really like about MagicRed Casino is the wide range of promotions it offers on a regular basis. Again, as bonus lovers, this ups the engagement factor for us, and of course the casino funds. So how does this play out?
In general, there is always one major promotion running at MagicRed, which you can see featured on the homepage banner and certainly on the website's 'Promotions' page. When we last looked, for example, it was a $5K tournament on select Egyptian themed Play'n GO slots.

There are also certain promotions that are run on a particular day of the week like Magic Spin Tuesday, which gives you up to 30 free spins on a select game as you deposit (10 spins for every $20, up to 30 spins over the course of the day). Or there is something called Magic Thursday Treat, which is a terrific 50% up to $100 reload bonus to give you a boost in prep of the weekend.
Speaking of weekends, there is also the special cash back offer you can enjoy Saturdays and Sundays, exclusively at the MagicRed live casino. It's a great way to hedge your bets at the awesomely immersive MagicRed live casino games.
And then there is the monthly loyalty cash back offer for members of the MagicClub. Just keep in mind that it is only available to top tier players in the Platinum, Premium or Prestige ranks. So that should give you even more incentive to boost your loyalty club rating if nothing else. Well that, and the extra Sunday free spins, express speed withdrawals, and really high reward point redemption rate top membership affords.
The Expert Roundup on MagicRed Casino Bonuses
Although we have a bit of an issue with the welcome bonus free spins, other than that, we would have to say that we have a very positive opinion in regards to the MagicRed casino bonus offerings overall.

For starters, the casino has done a good job in creating a bonus schedule that offers different types of bonuses - like free spins, match deposit bonuses, and cash back offers - at regular intervals. This does two things.
First of all, it appeals to different types of players who like different types rewards. And second, it ensures there is always some type of promotion happening, adding an extra dimension to our play that is always fun – and a bonus in its own way.
Last Update:
Article reviewed:
MagicRed Bonus
Author Rating: