Dunder Mobile Casino App
One of the primary questions we at Casino.Guide get from our readers in terms of the casinos that they are interested in is how the site performs on mobile, and does it offer a casino app?
That is because more and more these days, players are moving to the mobile domain. Mainly due to the sheer convenience.
So if you are wondering if Dunder has a mobile casino, it is safe to say, that we would not even bother reviewing an online casino that isn't fully mobile, because frankly, all self-respecting casinos are now fully mobile optimised.
In fact, mobile compatibility is an absolute prerequisite in our books. And so we can assure you that Dunder is no outlier here. That is, as expected, it offers all that you need direct from your handheld device.
Dunder Casino App: Advantages and Disadvantages
Hits:Misses:
Fully mobile optimised HTML5 website
Completely compatible with iOS and Android devices
Entire 1800+ game catalogue available
No casino app available for download
Dunder Mobile Casino Games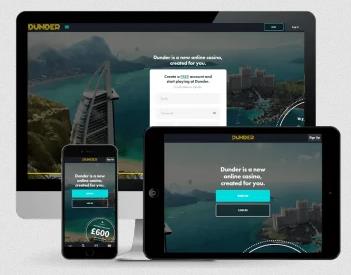 When it comes to the Dunder offering, the terms online casino games and mobile casino games are essentially synonymous here. In other words, if you have visited Dunder Casino from your PC, and seen something you like, you will be able to play it just as well from your mobile phone, or tablet, or iPad, as you will.
For those not yet familiar with the Dunder game catalogue, this is a great opportunity to point out a few highlights.
Basically, Dunder has populated its catalogue with a rich assortment of over 1800 mobile casino games. These games are from some of the best casino software houses out there including NetEnt, Microgaming, Betsoft, Play'n GO, Quickspin, and Evolution Gaming for its live casino offering.
As mentioned, since the site is programmed in HTML5 and Dunder works with top casino software providers, all the games offered are inherently mobile optimised. In case you're not familiar with that term, that basically means that the graphics are automatically shrunk down to fit your screen, without losing their crispness and appeal. And while the navigation may be a bit different, all the essential functionality remains the same, again optimised for use on your smaller screen.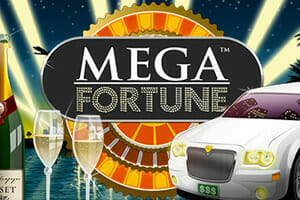 As for game titles themselves, there is a rich range of mobile slot machines from various providers, including classics like mobile Starburst, Jungle Jim, and Immortal Romance. If you're up for the big thrills of progressive jackpot games, there is also an abundance including Mega Moolah, its spinoff Mega Moolah ISIS, King Cashalot, and Mega Fortune. Just remember, while regular slots can be played for free to get a feel for the game, you'll need to gamble real cash to enjoy the jackpot slots.
If you're more of a table games person, or simply looking for additional variety, there are plenty of options to choose from. These include mobile roulette that looks surprisingly good even from your cell, mobile blackjack so you can play your hand on the go, mobile baccarat, and more.
Dunder Casino App Download
Playing mobile casino games at Dunder requires no download. Or put more simply, there is no Dunder Casino app available to download. Rather you need to access the website from your mobile phone, as you would any other site you are interested in frequenting.
Dunder Mobile Casino for iOS


As there is no Dunder mobile app, needless to say there is no Dunder mobile casino app for iOS. Instead you simply visit https://www.dunder.com/ca from your iOS device – whether you are using an iPad or an iPhone it works equally well – and log in from there.
Of course you can use the same account details as you use on your PC. But you probably already knew that.  You can bookmark Dunder by adding it to your favourites, if that's how you prefer to work. Otherwise, your browser will quickly pick up on where you want to go as you start typing it in.
Dunder Mobile Casino for Android

Again, since there is no Dunder mobile app, there is no Dunder mobile casino app for Android. While you may be used to using an app for many of your other common activities, this shouldn't be a deterrent.
Accessing Dunder mobile from your Android is very easy. Not needing to download an additional app, some might say, saves space on your smartphone or tablet's memory.
Dunder HTML5 Casino

As mentioned above in our highlight of mobile games, Dunder is programmed in HTML5. This is just a techy way of saying that Dunder is programmed in a language that makes it compatible with all of today's web browsers – Chrome, Safari, Explorer, and all. This in turn makes it work well on almost all mobile devices.
This means quick loading times for the website, with all of the graphics properly displayed in the right place. In addition to great looks and smooth play, it also allows for complete functionality from banking through customer support, just appearing in a slightly different navigational format on your smaller screen.
Advantages of the Dunder App for Android and iOS
While we cannot deny the appeal of downloading a casino app, in terms of the convenience of having the casino icon easily available from your cell phone's screen, the norm these days is towards a mobile web experience. That means it has become exceptionally rare to actually find a casino that has an Android app or an iOS app for its offering.
As such, we cannot criticise Dunder for not having an app, especially with such an excellent mobile website backing it up.
Advantages of the Dunder Mobile Casino
The advantages of the Dunder mobile casino are obvious. Having a fully mobile optimised casino means that you can enjoy the full Dunder experience from anywhere. That is, the kind of convenience we've come to expect.
So for example, you can easily log in to Dunder during your lunch break at the Tim's, riding the bus, sitting on your sofa, or even lying in bed. Basically, any time the desire to gamble strikes. And if you want to place a few wagers at work (shhh, we won't tell the boss), you can do so without relying on your office PC.
Plus, since it is a website and not a separate app, you know that you are always getting a consistent Dunder encounter. For example, if you want to play a particular new game you've seen on the Dunder website, you don't have to wonder if it's been updated to the app. You already know it will be there.
The Expert Roundup on Dunder Casino Mobile
Following careful review of the Dunder mobile offering, it is clear that our excellent evaluation of Dunder Casino extends to the mobile domain.


That is, if you want to play at Dunder from your mobile device, you can enjoy everything we like about Dunder whether on your smartphone or tablet, regardless of the operating system.
This includes a fantastic range of over 1800 games of various types, from slots and jackpot games through a terrific offering of table games. Plus, you can claim and playout your welcome bonus, and of course, access your wallet for deposits and withdrawals.
And although there is no casino app to download per se, this has become the expected norm, so we find no fault in that. So save yourself the search for such a thing, and instead log in to Dunder from your mobile browser. We're pretty sure, you too will like what you see.
Last Update:
Article reviewed:
Dunder App
Author Rating: