Caxino Customer Support & Service
Caxino is a relatively new online casino. It has a simple bright and cheerful theme. But what lies beneath the fun and games? After all, there is almost always a time when a player needs help or clarification. What can players in Canada expect from this gaming site in terms of support?
Our team of players at Casino.Guide went out to test Caxino Casino and their customer service team to deliver this review for you. We have good news for you too. This new kid on the block does a pretty good job at supporting Canadian players.
Caxino support is largely based on 24/7 live chat and email. The service, like the site itself, is available in both English and French to make sure everyone is catered to. The staff is friendly and knowledgeable and the FAQs are actually helpful. At the time of review, Caxino does not have phone support in Canada or elsewhere. For the full details on the quality of the casino's customer service, keep reading our review below.
How to get in touch with the Caxino support team?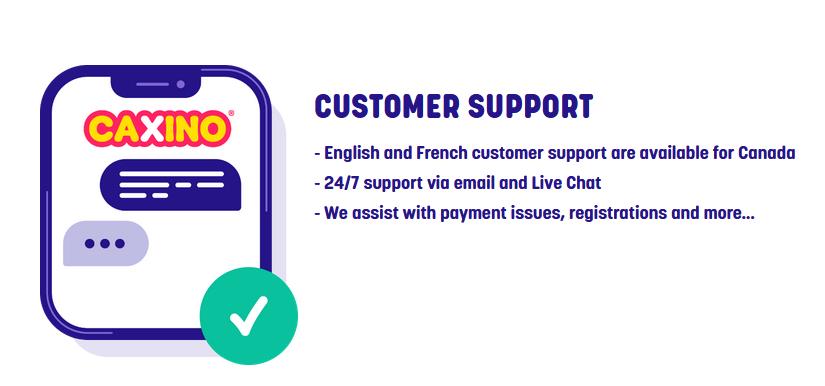 MoreLess
---
Caxino Live Chat
Caxino live chat is the primary channel for help. It's available 24 hours a day, 7 days a week. You can connect with one of the casino's agents anytime by clicking on the speech bubble icon towards the bottom left of the screen.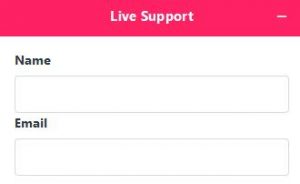 From there, you can also choose the language you want your chat to be in, which not only includes English and French, but also German and Finnish where the casino is also rather popular.
Our testing players' overall impression of the service was good. It took less than half a minute for our testers to connect to an agent. Once connected, they found the staff at Caxino to be knowledgeable about Canadian payment methods and banking processes.
They patiently walked us through their already simple sign up process, and explained to us in clear terms how the promotions and bonuses at the casino works. The team at Caxino is friendly and competent, and everything you want from good customer service. Our player from Quebec was also happy to report that the French customer service at Caxino was also fluent.
Back to TOC
Caxino Email Support


Live chat is always great but if it's not time sensitive, you can also write Caxino an email at [email protected]. This allows the support team to respond to your question during a quieter moment, takes a bit of pressure from the immediate fire on the Live Chat lines, letting them give all players the time needed to resolve their questions.
For those who prefer to write en français, you can use the email [email protected] and this will ensure your query gets directed to a French speaking agent immediately.

We received answers to our emails within 24 hours, which is very acceptable.
Back to TOC
Caxino FAQ
Caxino also has an FAQ, where you can find answers to the most common questions. We're really happy with the way this has been laid out to make it easy to read. Not only does it cover the usual topics such as banking time frames, payment methods, bonus and promotions terms and so on, but we also found that the answers explained things clearly in no ambiguous terms. Perfect score here.

Back to TOC
Caxino Quality of Service


Our testers unanimously agreed that the customer service reps at Caxino Casino are competent as well as personable. They understand the specifics to Canadian banking processes and helped to resolve issues quickly. We also appreciate that the casino caters to both English and French speaking players.
The Expert Roundup on Caxino Customer Support


Caxino Casino certainly knows how to make Canadian players feel supported. Although there is no phone support, we found the existing channels to be more than enough. The Live Chat is around the clock so you don't ever have to wait to connect with one of their customer service reps.
Email responses were also prompt. The friendly staff were quick to resolve issues. We like that the team has bilingual Canada covered too. In short, everything you need for help is here at Caxino.
Last Update:
Article reviewed:
Caxino Support
Author Rating: