Boom Casino Bonus 2023
Please note: This review is not up to date because Boom Casino is no longer part of our regular testing process. We are therefore currently unable to offer information on this casino.
Please check out our list of recommend casinos for other gambling sites.
---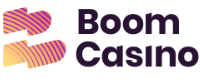 Bonus September: Deposit Bonus package
Bonus Rate: 100%
Max. Bonus Amount: $800 + 250 Free Spins
---
At Casino.Guide we have already written a review covering the full Boom Casino experience. If you've read it, then you know that we hold this online casino in exceptionally high esteem. If, however, you're looking to zero in on the casino bonus experience in particular, this review is for you!
Here we'll cover the excellent welcome bonus that Boom Casino offers to all new players, as well as its very rewarding loyalty club. Plus, you can get a quick peek at the fair wagering requirements, other promotions you might expect, and everything in between.
Boom Casino Welcome Bonus

Let's start with the obvious, the Boom Casino welcome bonus. This is a terrific offer that is tiered to meet the style of different types of players. Let us explain.
A one-time match deposit bonus, it gives you 100% up to $800 plus up to 250 free spins. The minimum amount you can deposit in order to claim this offer is $30, while the bonus is capped at an extra $800 in matched bonus funds. That's pretty simple.
The free spins are a bit more complicated. That is, the higher the amount is that you deposit in your first deposit, the higher the number of free spins you will get. It goes as follows:
Deposit $30, get 50 free spins
Deposit $40, get 100 free spins
Deposit $60, get 150 free spins
Deposit $80, get 200 free spins
Deposit $100 or more, get the full 250 free spins

This is actually a pretty nice system as it gives you a generous number of free spins even for a smaller deposit, and it truly rewards you for making a more substantial deposit, which at a $100, really isn't all that high.
The other great part of the welcome bonus free spins is that they are awarded to you on some of the casino's best games. Just keep in mind, even if you get all 250 free spins, you cannot play them all at once. Rather you will receive them at a rate of 50 free spins per day, as follows:
Day 1 = 50 free spins on Aztec Gold Megaways
Day 2 = 50 free spins on Dragons Fire Megaways
Day 3 = 50 free spins on Gonzo's Quest Megaways
Day 4 = 50 free spins on Piggy Riches Megaways
Day 5 = 50 free spins on Mystery Reels Megaways
The spins are always given in this order.  If you only received 100 or 150 free spins with a $40 or $60 deposit, you can do the math yourself to see which day's free spins you are eligible for.
Breaking Down the Boom Casino Bonus Terms

In terms of wagering requirements, both the bonus cash as well as free spin winnings are subject to the standard 40X wagering requirement.
This can seem complicated to the uninitiated, but those who've been playing at online casinos for a while know the drill. Say you deposited $50 and got a $50 bonus. You will then need to bet that $50 a total of forty times, or place $2000 worth of bets, in order to clear the wagering requirement.
"Just remember that at Boom Casino, as is the case at pretty much all online casinos, you start off by wagering the cash element in your account. Only once you've spent that do you go on to wagering the bonus money and then completing the wagering requirement." Vienne Garcia – Author and Casino Expert
Also, make sure to play your free spins as quickly as possible as they are only available for 24 hours from the time they are issued. Bonus money on the other hand is valid for 60 days in your account.
As for how different games contribute to meeting the wagering requirement, it is important to note that not all games contribute equally, as is always the case.
All slot machines contribute at a rate of 100%, with the exception of The Wish Master and Blood Suckers machines which don't contribute at all,
Video poker contributes at a rate of 30%,
Oasis poker, Texas holdem poker, casino holdem, and blackjack each contribute at a rate of 10%,
All versions of roulette come in at just 5%.
Baccarat unfortunately does not contribute at all.
Other Bonuses at Boom Casino
While the Boom Casino welcome bonus is awesome and the loyalty club is fantastic, there is a bit of lacking in terms of other bonus promotions.


This does not mean that there are no other bonus promotions to be found here. There are, intermittently. For example, if you pay attention to your emails or SMS, you will see that there are occasionally bonus offers sent to you, for say the weekend. Over the holidays, there can be special bonuses to grab up every now and then. But overall, bonus promotions are not a central focus of the casino's offer. Truth be told, that's okay. There are enough other strong elements to the casino to make up for it.
To see what's on offer and if you have any promotions waiting, you can always click the 'Promotions' tab from the left navigation when you are logged in to Boom Casino. A box will open up on the right side of your screen with two tabs, one showing active promotions on Boom Casino and the second showing your inventory, that is promotions that you are currently participating in – in case you have forgotten. Definitely a nice little feature.
Boom Casino Loyalty Program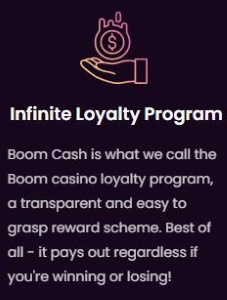 The Boom loyalty program is not the standard four or five tiered VIP club you may be used to from other online casinos. Instead it is one simple system that rewards you as you wager.
Each time you place a wager - whether you end up winning or losing the round - 0.5% of your turnover is turned into what is called Boom Cash and added to your Boom Pot. The most you can add at a time is $1 per spin, though if you're betting frequently that will add up really quickly.
Once you have Boom Cash in your Boom Pot, you can withdraw it at any point. This can be done in one of two ways. You can either move it to your casino account to use for more gambling. Or you can withdraw it entirely for cold hard cash.
In other words, the Boom Casino loyalty program is a great, easy way to earn a little extra cash each time you play, automatically.
The Expert Roundup on Boom Casino Bonuses


Overall we like the Boom Casino bonus offering. The welcome bonus is definitely one of the better ones around with a great one-time match bonus that can give you as much as an extra $800 on your first deposit. Plus, since it's rewarded at a rate of 100% it's easy to remember and potentially quite lucrative.
We also like how the welcome bonus free spins are dispersed on a tiered system, with more free spins given for higher deposits.
The wagering requirements and playthrough demands are also perfectly reasonable and fair.
While there aren't always other bonuses advertised onsite, there is plenty of extra excitement to be had with the ability to earn extra cash on just about every wager through the loyalty club.
It's safe to say, that the Boom Casino bonus is another great part of this highly rated and entirely recommended online casino site.
Last Update:
Article reviewed:
Boom Casino Bonus
Author Rating: